Close to Arusha city with only 25 kilometres separating the two, Arusha National Park is the most convenient to access natural habitat in Tanzania. The park is connected to Tanzania's most famous protected areas, for example, it neighbours Kilimanjaro in the East and Serengeti national park and Ngorongoro Conservation Area in the West. The main physical feature in Arusha national park is Mount Meru, an imposing Volcano towering at a height of 4566 meters, second to Kilimanjaro Mountain as the tallest mountain in the land.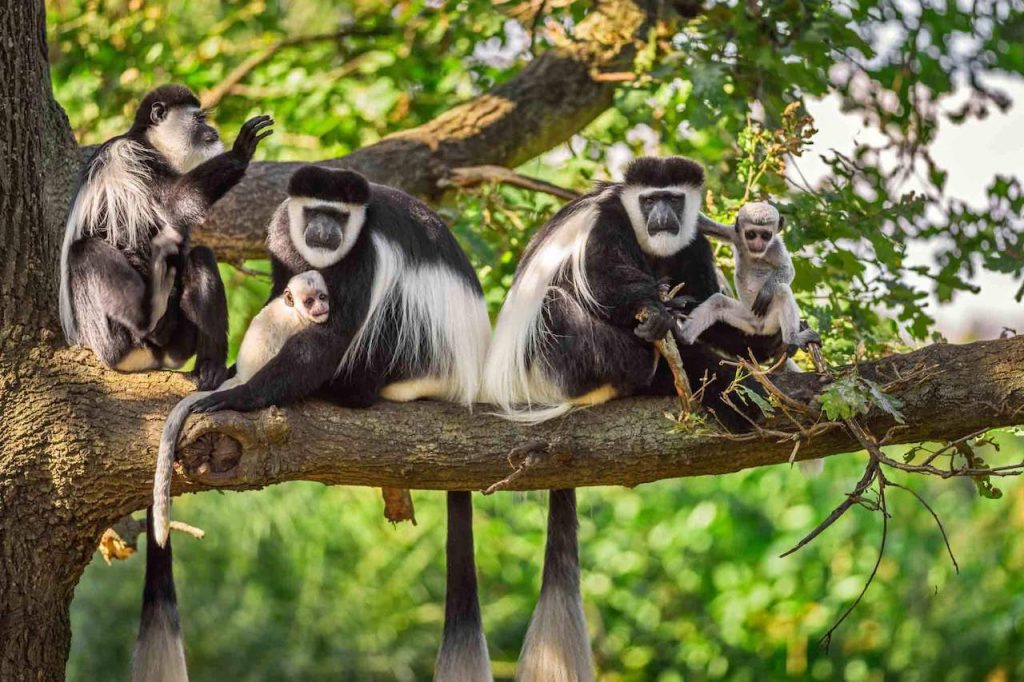 Arusha National Park is a small area comprising distinctive topographies in its three parts, namely the Meru crater linking the Jekumia River in the west, the Ngurdoto crater, a grassland area in the southeast, and the peak of Mount Meru standing on its edge and the shallow alkaline Momella lakes in the northeast.
In regards to wildlife, Arusha National Park is not as much gifted as Ngorongoro Conservation Area and Serengeti National Park though situated in the same locality of northern Tanzania. The notable exotic mammals in the natural environments of Arusha National Park constitute zebras, buffaloes, giraffes, bushbuck, warthogs, monkeys, and elephants to mention but a few. The Leopards are irregularly seen in the park. Several bird species are residents of the area, for example, the Narina and bar-tailed trogons, northern pintail, anas acuta, common teal, and many more.
Accessibility of Arusha National Park
Arusha National Park boosts as the easiest park to access in Tanzania due to its proximity to Kilimanjaro International Airport in Arusha city, the main gateway for most international tourists in the country. Its grand entrance is 35 kilometres away from Kilimanjaro Airport, 25 kilometres from Arusha, and 58 kilometres from Moshi. The short distance from the main safari starting points implies that road transport is the way to reach the park. Tourists have a variety of road means to choose from to reach the park, for example, 4×4 car hire with a driver arranged by a tour company, Uber or any other metered taxi, and public buses. Though, using a tour company is advised for international travellers for convenient and safe travel.
Activities to do in Arusha National Park
Arusha National Park is considered an excursion-tour destination but it offers a handful of adventures that can keep you engaged for more than two days. Here are some of the popular activities carried out in Arusha National Park.
Mount Meru climbing
Hiking the freestanding Mount Meru is the most popular activity in the park. Mount Meru is such a dominant feature in the area with an altitude of 4566, only second to Kilimanjaro among the highest mountain in Tanzania. It is not only an adventure to hire Mount Meru national park but also a delightful and captivating experience. The climb opens up opportunities for sighting, admiring, feeling, and touching a plethora of natural marvels, for example, the lower section of Meru is covered by forests and grasslands with an abundance of forest mammals, monkey species, and countless birds. A scenic sight of the northern wilderness of Tanzania including the Serengeti plains, Ngorongoro crater, and mountain Kilimanjaro unfolds itself at the peak of Meru. For a comprehensive exploration of Meru Mountain, four days is the perfect time to spend while hiking.
Safari game drive in Arusha National Park
The perfect way to explore and enjoy the sights and sounds of wild animals and birds in Arusha National Park is by participating in a game drive. The park has popular tracks to take on a game drive that unveils most of its renowned mammals. Take tracks of Ngurdoto crater, borders of Meru crater, and Momella lake, to have a possibility of encountering wildlife species such as zebras, giraffes, elephants, warthogs, monkeys, waterbucks, and hippos. These adventures are carried out both at night and during the day. For an epic experience, ensure to hire a four-wheel drive car with a pop-up roof and a diligent safari guide.
Canoeing in Momella Lakes, Arusha National Park
Momella Lake presents a boat ride experience to tourists in Arusha National Park. The lake is alkaline but with lots of life, for example, hippos, waterbucks, and birds, the pink flamingos being the notable ones. On its banks, elephants, buffaloes, zebras, and giraffes are witnessed drinking water. The boat ride usually takes 2 to 3 hours and it is recommended to take up the experience in the morning during sunrise and in the evening at sunset to enjoy the golden hour on the water where everything seems to look gold in color.
Bird watching at Arusha National Park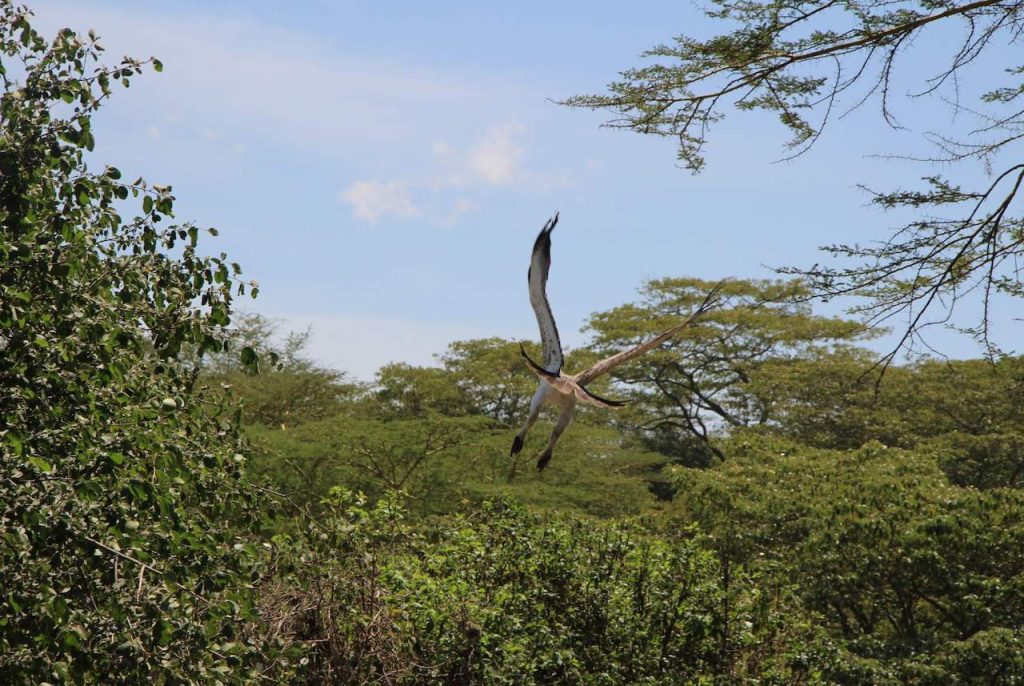 Birding is done at three varied areas of Arusha National Park, namely Meru forests, Ngurudoto crater, and Momella lakes. Since the three areas have distinctive landscapes, totally different types of birds are seen in these areas. Henceforth, tourists are advised to visit all the spots to epitomize their birding experience. The notable birds in the area are pink flamingos, Egyptian geese, red-fronted parrots, African fish eagles, and lammergeyers.
Walking safaris in Arusha National Park
Arusha national park is an expedient area for nature walks because it has few predators. The walking safaris permit visitors to enjoy nature at close range, sniffle, appreciate and enjoy it. Varied trails are available in the park to avail amazing features and wildlife spontaneously, for example, Laitongo to Buffalo, Momella Gate to Itikoni, Momella Gate to Tululusia Waterfall, Buffalo to Kaitong and Kitoto to Njeku through Meru Crater. The walking safaris normally spend about 2-6 hours depending on the distance of the trail.
Best Time to Explore Arusha National Park
Like in any other Tanzanian National Park, tourists prefer to visit Arusha National Park in the dry months of January to March, June through October, and December. There is little rainfall and the sun is at full throttle, making it favourable to engage in activities such as game drives, mountain climbing, and walking safaris which the park is popular for. Also in the dry season, scores of mammals crowd at Momella Lake for water making their viewing easy.
Lodges to stay around Arusha National Park
Visitors have a wide range of lodges to choose from since Arusha National Park is situated close to the city. Any sort of lodge, a tourist wishes to spend a night in can find it with so much ease, be it luxury, standard or budget. The popular and most suitable lodges to look out for around Arusha National Park include Momella Safari Lodge, Meru Lodge, Mbega Lodge, Kiota camp, Tanzania Mountain Retreat Lodge and Camp, and Itikoni Camp.