Tanzania introduced e-visa applications to reduce the lines that were ever present at the airports when waiting for them to be approved. You are required to be filled in an online form, make online payments for the Visa, and wait while it is being processed. Before you apply for the e-Visa in Tanzania, there are a few things that you need to consider and these include: You cannot apply for a visa for someone else. Each traveler is supposed to apply for the e-Visa separately, Ordinary and multiple entry visas can only be used for tourism purposes, and the passport should at least be valid six months.
The official government website States that the visa will be ready within 10 days of submitting the application. You are advised to cross-check your application form before submitting it to avoid the application from being declined.
Ordinary Visas
An ordinary Visa issued to foreigners from across the world who would wish to visit Tanzania for tourism, charity, humanitarian, family visits, leisure, conference, and holiday activities. It is a single entry Tourist Visa and once it is issued, the ordinary Visa is valid for 30 to 90 days. Documents that are required for one to apply for an ordinary Tanzania Visa include the following.
A return ticket
Valid passport (a copy of the passport or a travel document with information)
Health surveillance form (online)
A declared form filled
50 USD visa fee. (USD 100 for American, Irish & Nigerian passport holders)
Multiple Entry visa: the multiple entry visa is the best for tourists planning on visiting more than once a year. You need to be able to read the requirements of the visa before applying online and note that it is valid for 12 months. Documents that are needed to apply for the multiple Entry Visa in Tanzania include
A copy of a valid passport
Return flight ticket
100USD Visa fee
Letter of invitation
Health surveillance form (online)
Other relevant documents that you should have to include a copy of the itinerary and proof of accommodation.
Read our easy guide on how to book a tanzania safari online with ease. Free advise and step by step guide on how to easily book your tour in Tanzania.
What is the cost of the Tanzanian e-Visa?
The cost of the Tanzanian Visa usually depends on the type of Visa that you are applying for and below is an estimation of what it costs at the moment but note that the fees structure can easily change due to unavoidable factors and you need to keep in checking to see if there is any change.
Ordinary Visas 50USD
Multiple entry visas 100USD
Student visa 20USD, 250USD AND 500USD (Depending on the duration)
Business Visa    250USD
Transit Visa   30 USD
Tanzania e-Visa: This was introduced into the country in November 2018 and it allows tourists to apply for a visa online to gain entrance to both Tanzania and Zanzibar. All tourists are required to fill in the application form online with payment made online as well. The Visa process does not take long and an email will be sent to you as soon as the application process is complete and the visa is approved. Print out the approved visa, which you will show upon arrival at the airport.
Validity time for the Tanzania e-Visa: the multiple choice entry visa is valid for 12 months and the ordinary e-Visa is valid for 30 to 90 days and this depends on the duration of your Safari. In conclusion, you are not supposed to stay in Tanzania after 3 months.
Main entry points in Tanzania: There 5 specific entry points to Tanzania and these include the Tunduma border, Julius Nyerere International Airport, Abeid Amani Karume International Airport, Kilimanjaro International Airport, and Namanga border.
Steps taken when applying for an e-Visa in Tanzania
Get all your documents: gathering the necessary documents is the first step. Scan your documents and upload them on the partial. The size of your photo and other copies should be less than 300kb and we advise that you cross-check each before the final upload.
The online application process: After uploading your photo and other documents on your laptop, the next step is to start the application. This process involves answering different questions and if incomplete, your application will be null and void. The first step is to head to the online application site and click on the start new application. This section is mainly filled with personal questions that as passport details and passport number. Make sure that for every step you get to, you save before continuing to the next page.
You will be given a unique ID application number that you must save because you will need it. The bio-data mainly consists of your bio-data, employment details, passport details, and accommodation details. Review and make sure that the information given is right before submitting.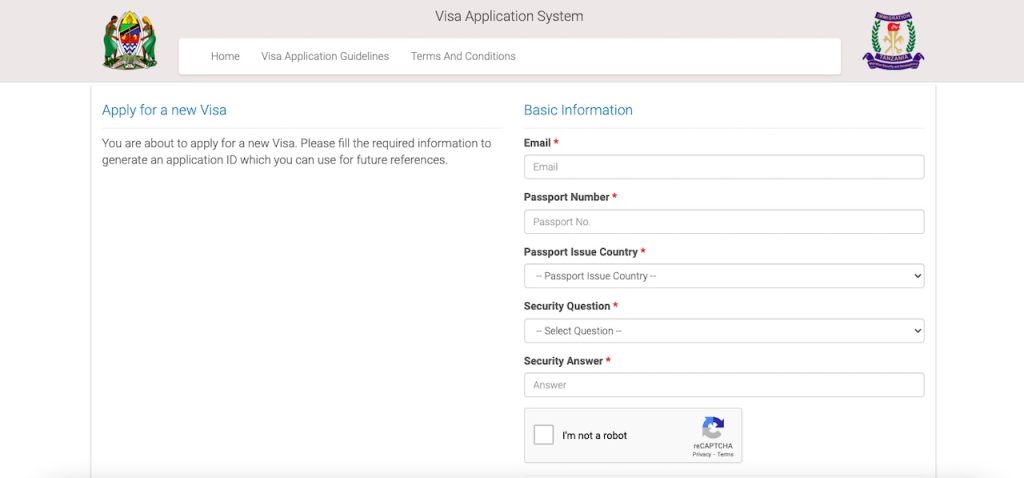 Submit: after cross checking and making sure that the information is correct, the next step is to submit the application and an email acknowledging receipt will be sent.
Feedback: this is the fourth step in applying for the e-Visa which takes about 10 government working days. You can keep on checking for progress online but all you need to do is be patient. Once the e-Visa is approved, an email will be sent with the document that you are to download and present at the Tanzania entry points.
Traveling to Tanzania: after receiving your e-Visa-approved document, the next step is to pack and travel to Tanzania. Note that these are the steps to follow when applying for an e-Visa for children. Make sure you fill in all the necessary information.
The Tanzania Health Surveillance form
All tourists planning on visiting Tanzania are expected to fill in the Health surveillance form at least 24 hours before traveling to Tanzania. the form is like the e-visa form when filling it in and you will be required to give your bio data which is name, age, transportation, flight number, accommodation, illness details in case you have been sick before traveling to Tanzania and once you have completed and submitted the form, you will be given a special Health code that you are to present upon arrival into the country.
Frequently asked questions
Can I get a Visa on arrival in Tanzania?
Yes, it is possible to get your visa from specific airports in Tanzania on arrival and you might have to wait for two hours or more if you travel during the peak season. This is why we advise tourists to always apply online to avoid long lines.
What type of Tanzania e-Visa should I apply for?
Tanzania has a lot of e-Visa that you can apply for but in this article, we shall be discussing the two important ones which are the ordinary and multiple e-Visas.
Am I supposed to arrive on the exact date stated on my e-visa?
No, you can travel at any given time for as long as you are still within the validity date of your e-visa for example if it was issued on the 3rd of October, you can still get to Tanzania on the 15th.
What are the photo requirements for an e-visa photo?
Your facial expression should be neutral, the photo background should be plain white, the photo size is 45x40mm, the photo has been taken at least six months before or recent, no headgear allowed unless it is religious affiliated, and your whole face should be visible and the eyes should be seen. See you in Tanzania! We will be happy to offer a great Tanzania safari tour package to you and your companions.