Katavi National Park is situated in the western part of Tanzania and it is normally combined with a tour to the adjacent parks of Katavi and Mahale while on a Southern Tanzania Safari. However, due to the fact that it is somewhat inaccessible and very expensive to take a flight into Katavi- the park receives fewer tourists. I cannot fail to point out that all the guests who have spared time and willingly spent extra money to come to Katavi National Park have testified of the very magical wildlife encounter they enjoyed while in the park.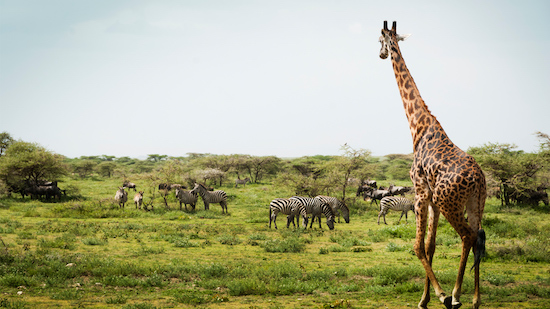 The pristine and wild nature of Katavi makes it one of the very few destinations on the African continent where you will have a true feeling of what Africa was a thousand of years ago. Most safari experts will agree with me that the Katavi National Park is the best kept natural secret that has been well preserved in its natural state for years.
Wildlife in Katavi National Park
The number of wild animals living within Katavi National parks is very remarkable with some specialists alleging that perhaps it can be matched up to that of the Ngorongoro Crater in northern Tanzania.
The park is known as one of the destinations with the highest number of hippo and crocodiles in Africa. The large population of hippos which is estimated to be over 600 depending on the time of the year is seen hibernation in the hippo pool a sight that cannot be seen anywhere else across the continent.
In Katavi you will be able to enjoy up-close sights of lions fighting with the huge buffaloes as they try to hunt them down.
There is also a large number of elephants living here, in addition to zebras, waterbucks, giraffes, hyenas, topi and leopards in addition to the very rare wild dogs. So game viewing here is definitely very rewarding.
Activities in Katavi National Park | What to Do
The primary tourist activity in Katavi NP is game driving and only day-time game drives are allowed. You can also participate in walking safaris as well as fly camping tours that include spending a night out in the wilderness sleeping under African star lit skies. The Fly camp tours are organized by the Nomad Tanzania' Chada Camp.
Best time to Visit Katavi National park | When to Go
Similar to Ruaha National Park and the Selous Game Reserve, this park can best be visited during the dry season that begins in July up to October. As the dry season progresses, the streams and waterholes dry up, so the animals move to the lower parts of the park and gather around the few remaining water sources. That makes game viewing much easier. Because the park is not often visited by tourists, don't expect to find many other tourist groups if at all any while on your Katavi Tanzania Safari.
Katavi National Park Accommodation | Where to Stay

The most popularly used and much loved accommodation facility is Nomad Tanzania's Chada Katavi. It offers six (6) classic safari-tents and offers a real experience of remote camping. The other option is the more affordable yet and fairly new facility known as Foxes Katavi Wildlife Camp that is well suited offering good views and offers more spacious accommodation.
So if you are interested in exploring the Katavi National Park, contact us today as we Raha Adventure have specialized in organizing tailor-made Tanzania Safaris and Tanzania Holidays not only in southern Tanzania but across the rest of Tanzania and Zanzibar as well.