A honeymoon is a private moment and time for newlyweds to get a bit of privacy and enjoy each other's company after the hustle of organizing a wedding. As you plan on organizing a honeymoon, there are a lot of questions that come to mind for example how long to spend. Where to go? Activities to carry out, time spent outside your room? And how much to spend on your safari honeymoon. Many options come to mind, especially with the destination but few can match up to one's expectations and this is where Tanzania comes in. Tanzania has some of the best honeymoon safari destinations and below is a list of the best honeymoon destinations in Tanzania.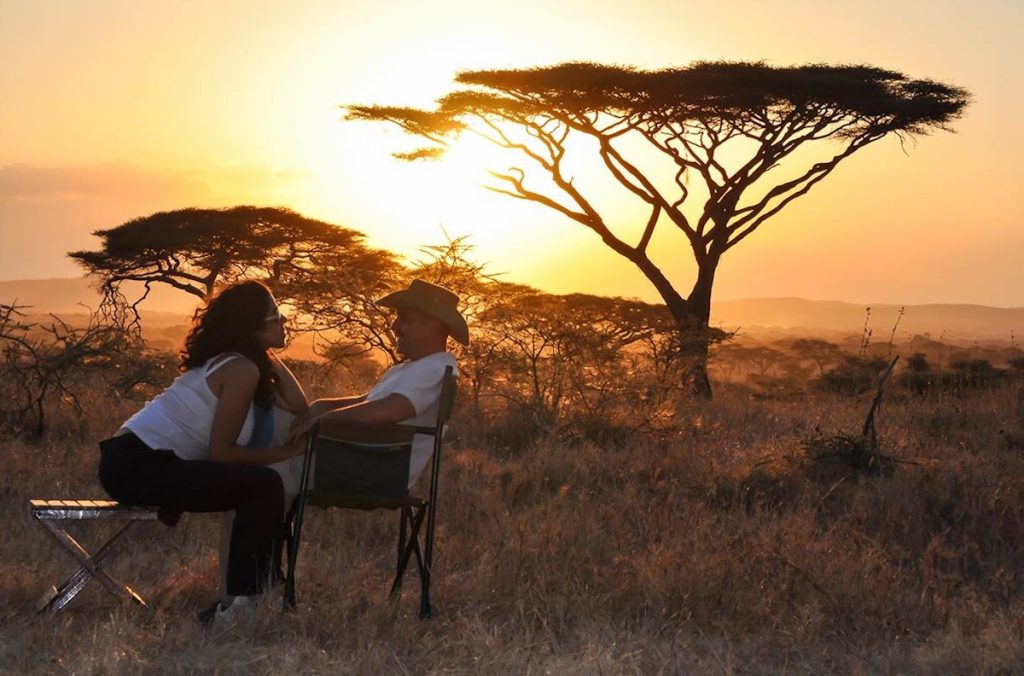 There are several safari activities that you can engage in while on a honeymoon and these include hot air balloon rides, game drives, guided nature walks, boat safaris, dinner bushes, picnics, biking and cycling, camping, and relaxing along the beaches. Below is a list of our favorite honeymoon safari destinations in Tanzania.
Serengeti National Park
A honeymoon safari to Tanzania should include a trip to Serengeti National Park which is considered to be the oldest National Park in Tanzania and best known for the annual wildebeest migration. The annual wildebeest migration sees more than 10 million wildebeests, zebras, gazelles, and impalas crossing from Serengeti to Masai Mara in Kenya. Considering the many activities and variety of wildlife that is found in Serengeti, this is the perfect place for adventure for honeymooners. The best features that honeymooners get to enjoy while in Serengeti include:
Game drives in the Serengeti
This is one of the best in which couples get to share intimate moments as they get to see the various wildlife species in the National Park. The feeling of being with someone you love as you watch the animals in their natural habitats is a lifetime experience that you would not want to miss out on your honeymoon. You can ask to have a private game drive just you and your partner to get that intimate feeling in the wilderness. The game drives are carried out in two phases that is a morning session and the afternoon session but if you would wish to take the whole day it can also be arranged.
Private romantic dinners in the Serengeti
What better way to end your day than with a private romantic dinner with your loved one? High-end dinners are prepared with a waiting staff ready to deliver all that you might need for the dinner with champagne, cocktails, any type of alcoholic beverage that you might need, and a well-prepared cuisine of your choice by a trained chef.
Hot air balloon rides and bush breakfast
Hot air balloon rides are a must if you plan on having your safari in Serengeti National Park. They come at an extra cost but are one of the best ways in which you can enjoy the wildlife in Serengeti from a different perspective. It's the best way to enjoy the sunrise in Serengeti with the cool breeze and do not forget to carry a camera and binoculars. A bush breakfast with champagne is served after the one hour of hot air balloon rides.
The wildebeest migration in the Serengeti
This should be the highlight of your honeymoon as you watch the millions of wildebeests, zebras, Topis, and gazelles migrating from Serengeti to Masai Mara. You can also enjoy the calving season around March when many calves are born attracting a large crowd of predators. The wildebeest migration is best seen from June to October but you will need to book in advance due to the large crowds during this period.
One of the best things that make a honeymoon worthwhile is the accommodation that is chosen. Some of the most intimate accommodations you can use while on your honeymoon include the Seronera wildlife lodge, Four seasons safari lodge, Serengeti Acacia camps, and Asanja Africa.
Zanzibar
Zanzibar is one of the best honeymoon destinations in Tanzania for newlyweds and the good thing is that you can combine a safari in Tanzania's wilderness with Zanzibar. The Island is famous for its pristine white beaches, multi-culture, and unique history. There are a lot of beach options in Zanzibar for all types of tourists visiting the country and some of the activities that couples can engage in while on a honeymoon safari in Zanzibar include the following: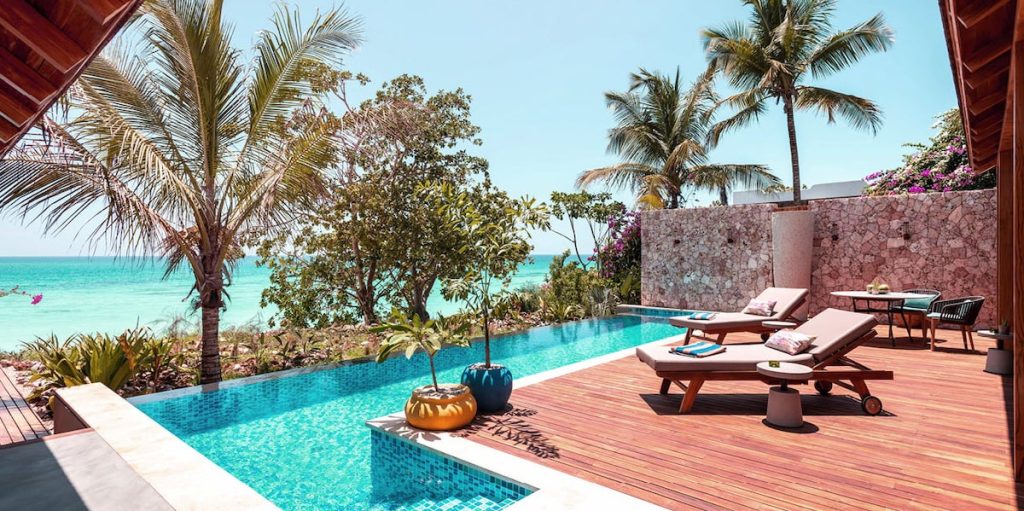 Kite surfing
Snorkelling
Bungee jumping
Relaxing at a beach of your choice
Flyboarding
Jet skiing and parasailing (this is carried out in Kendwa)
Scuba diving.
These are adrenaline activities that can create a bond between you and your partner and for those that would like to participate in more calm activities, the perfect activities include the Janzi forest walk where you get to see different primate species, a tour through the spice gardens, a walk through the stone Town with its rich history and Dolphin watching among others.
Best accommodations for honeymoon in Zanzibar
Accommodation options in Zanzibar that offer some romantic getaways for couples have been listed below with the quietest ones found in the southern part and the busy Centres in the Northern part of Zanzibar.
Tulia Zanzibar Unique Beach Resort
The resort is a birding paradise, home to hundreds of butterflies, primates like bush monkeys, and over 400 species of plants and flowers. The 16 bungalows are well constructed using local raw materials and stone next to the pristine white beaches. The large self-contained rooms offer privacy to the couples with some of the most amazing scenery.
Pongwe Beach Hotel
Pongwe has 13 beach villas that are traditionally constructed using local raw materials with 4 suites that have sea views and 3 garden rooms that offer an intimate and personal atmosphere to the different couples. It is the perfect getaway for many tourists, especially those that would wish to get away from the busy life of Zanzibar.
Doubletree By Hilton Resort
This is one of the accommodation facilities that you can check out as you plan your honeymoon to Zanzibar. The Resort has large well-decorated rooms and a guest room that has a private balcony from where you can enjoy the view of the beach and the sea.
The Mizingani seafront Hotel
The hotel was constructed in 1865 for newly married royal couples. It is located near the sultan palace museum and the ferry terminal making it an ideal place for tourists on their honeymoon. Honeymooners get to enjoy the views from the Zanzibar beach and go shopping at the local market for the different local food that is sold.
Ngorongoro Conservation Area
Ngorongoro Conservation Area is located in the northern circuit and is a top tourist destination in Tanzania. It is home to the oldest caldera where many animals like lions, hyenas, elephants, zebras, antelopes, buffaloes, and gazelles among others. The moment you land in Ngorongoro, you will be mesmerized by the beauty of the landscape and the wildlife and this will be like entering a new world away from the urban craziness. Some of the recommended activities for honeymooners include camping, game drives, birding, picnic, and romantic dinners. Accommodation options for couples on a honeymoon in Ngorongoro include:
Ngorongoro Wildlife Lodge
The lodge was constructed to match all the needs of couples on their honeymoon. It was constructed using local raw materials like wood and designed using African print. The beauty about staying here on your honeymoon is that you get to enjoy the view of the Ngorongoro crater which is 7500 feet above sea level and all the animals that converge in it.
Ngorongoro Oldeani Mountain
This is a colonial lodge that was constructed on a hill with views overlooking the Oldeani Mountains and Lake Manyara. It covers over 40 acres of lush green vegetation offering honeymooners a new and wonderful private experience as they get to explore the wilderness.
Neptune Ngorongoro Luxury lodge
The luxury lodge has 20 spacious cabins covering over 50 acres of land and they offer comfortable and luxurious accommodation to their guests and the privacy that newlyweds need. It is a good getaway for couples and also offers a swimming pool as part of its facilities for relaxation after a long day of enjoying game drives.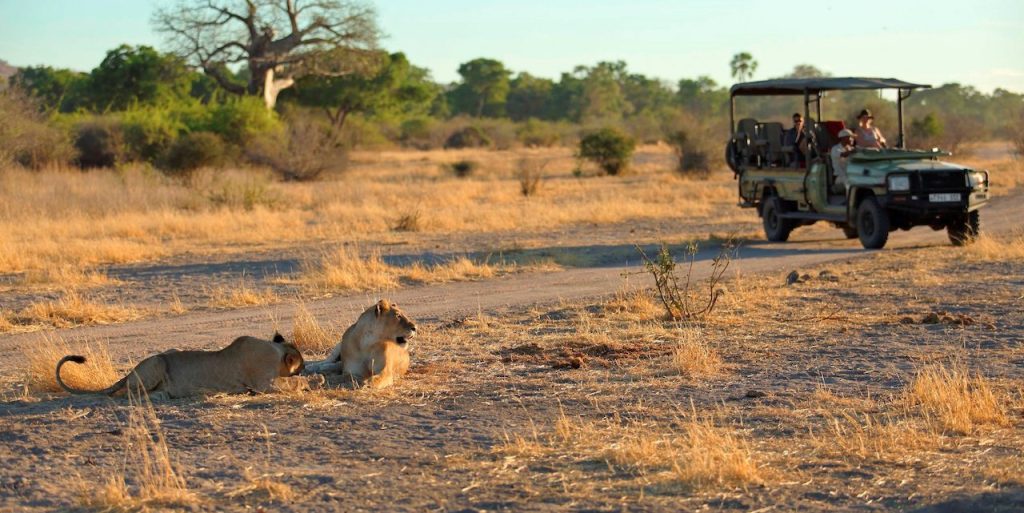 Ruaha National Park
Although it is located on an off-beaten route in the southern circuit, we believe that its isolated nature makes it a perfect destination for honeymooners. Note that Ruaha National Park is home to the highest number of predators in the country and Africa.
You will also be able to see other wildlife species and given that it is found in a remote area, you will not find many tourists giving you time and privacy to enjoy your honeymoon. Some of the accommodation facilities that you can book for your safari in Ruaha include:
Mabata Makali Lodge
This is a luxurious accommodation facility that is found at the border of the National Park. It is surrounded by lush green vegetation and offers services like a swimming pool, luxurious spacious bandas, and a bonfire. Its strategic location offers great views of the surrounding lush green and a perfect getaway for a private jungle honeymoon safari.
Ruaha Hilltop Lodge
The lodge was constructed on a hill offering views of Ruaha and animals like elephants, kudus, baboons, giraffes, and lions among others. The lodge has facilities like a well-stocked bar, dining room, receptionist, and large self-contained rooms that offer privacy to all their guests with both a good spectacular sunrise and sunset.
FAQs
When to go for a honeymoon safari in Tanzania
Honeymoon safaris to Tanzania can be done all year round although the best time for a honeymoon safari is usually during the dry season that is June to October when the wildlife can easily be spotted. There will be large crowds and that is why it is also known as the peak season however you can still enjoy your honeymoon with the many activities that are carried out during the dry seasons. For tourists who would wish to visit with fewer crowds, the low/green season is a good time.
Why do I have to honeymoon in Tanzania?
Tanzania has a lot of safari destinations that are the best for honeymoons and a few of the things that you get to enjoy include the big five, stunning beaches, excellent meals, 5-star services, and meals throughout your stay.
How much does a honeymoon safari in Tanzania cost?
There are so many factors that affect the cost of a honeymoon safari in Tanzania like the type of accommodation, transport, type of safari, number of people traveling, the destination, and extra activities planned for the trip. An estimation of the cost is $4050 to $15800 per couple including transportation, accommodation, and private guides. Find out more on how much it costs to go on safari in Tanzania, in general
Can I combine my Tanzania honeymoon safari with Zanzibar?
The answer is yes, you can combine the two destinations and get to enjoy a more entertaining and at the same time relaxed honeymoon. You need to talk to the tour guide and find out how to combine the two and have the best results.
What activities can I carry out on my honeymoon?
You can engage in all the safari activities on your honeymoon in Tanzania however this will be determined by the amount of time you are willing to spend outside your room with your partner. Safari activities include game drives in 4×4 safari vehicles, hot air balloon rides, bird watching, relaxing on the beaches of Zanzibar, and enjoying romantic walks and dinners among others.
How many days to spend on a honeymoon safari in Tanzania?
3 to 4 days are enough for a honeymoon safari in Tanzania and with the help of a safari company (local and registered), the three days can be arranged in a way that you get to spend time with your loved one and at the same time enjoy the safari activities offered at the different safari destinations.
In conclusion, we will provide you with the best services and all the information that is needed to make sure that you have the best honeymoon in Tanzania regardless of your budget that you have. We will make sure that you have the best honeymoon safari and all you have to do is a book with us and leave the planning to us.