As tourists plan their safaris to Africa, Kenya and Tanzania are some of the top destinations that appear on their searches. Both countries have some of the best Safari destinations that offer superior wildlife viewing and other Safari activities like relaxing on the beaches and the famous wildebeest migration which can be witnessed in both countries. The question remains, which of the two offers the best safaris, and below is a comparison between the two that will help you make your decision.
Accommodation, Tanzania vs Kenya
Both Tanzania and Kenya have a variety of accommodations that range from budget to mid-range and luxury accommodation facilities that are found in the different safari destinations in both Kenya and Tanzania. They both have well-developed accommodation facilities to match the different tastes and preferences of tourists. Kenya is however more prepared and due to its small nature as compared to Tanzania, Kenya outranks Tanzania when it comes to accommodation. The general tips that you should follow while selecting the best accommodation facility include the following:
If you are planning on traveling with children, we suggest that you look for a facility that offers babysitting services and is fenced off. The fence is to protect the children from being attacked by wandering animals.
Some accommodation facilities are a favorite for tourists which means that you have to book in advance at least a year or six months before getting the best deals on the accommodation prices especially if you are planning your safari in the peak season.
Make sure that you also inform your tour guide about any dietary issues that you might have for example if you are vegan, lactose intolerant, and any other allergies that you might have. This will help in properly arranging the best facilities for you.
Tanzania vs Kenya Beaches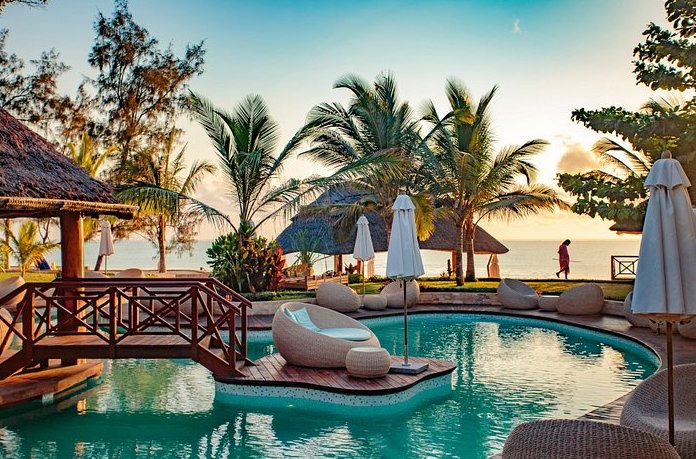 Kenya and Tanzania are well known for having some of the best coastal towns and both have pristine beaches where you can enjoy a relaxed safari. Many tourists usually combine the two and this is where Kenya has the upper hand over Tanzania with the better infrastructure and more luxurious accommodations. Although Tanzania has more pristine beaches spread out, the accommodation in these locations is not as luxurious as they are in Kenya and they are also few. In conclusion about the beaches, both destinations are a good getaway for a beach safari. The beaches that you can visit in both countries include:
Tanzania                                                         Kenya
Mnemba                                                         Lamu
Zanzibar                                                          Diani
Mafia
The crowds, Tanzania safari vs Kenya safari
Both countries are a hub for tourists, especially during the dry season from June to October which is also known as the peak season. Tanzania has more expensive and exclusive lodges, camps, and lodges that are limited compared to the size of the National Parks. On the other hand, Kenya has a lot to offer in terms of lodges, camps, and lodges which are cheaper which means that Kenya has an influx of tourists as compared to Tanzania.
Crowds in Kenya
Kenya has also marketed itself perfectly on the international market as the best safari destination on the African continent and as a result, more accommodation facilities, and transportation routes, international flights have been improved to attract large crowds. Kenya is also known for having the most budget-friendly safaris even during the peak season as compared to safaris in Tanzania.
Crowds in Tanzania

The crowds in Tanzania are similar to those in Kenya during the peak season. The peak season in Tanzania coincides with the wildebeest migration that takes place in Serengeti and after the migration season, Tanzania is relatively a quiet place for tourists. When it comes to crowds in Tanzania, location is key for example the Northern circuit is the most visited as compared to the southern circuit. If you do not mind crowds, the northern circuit which has Serengeti, Ngorongoro Conservation Area, and Lake Manyara National Park among other northern circuits, and if you are thinking of fewer crowds think about the southern circuit with national parks like Ruaha, Udzungwa, Mikumi and Mahale which are hard to get to even during the peak season.
Note that Tanzania is bigger than Kenya and its National Parks are all spaced out which means that transportation will be high as compared to Kenya which increases the cost of the Safari in Tanzania. The government in Tanzania also has many taxes levied on tourist and fees making it an expensive destination as compared to Kenya. In conclusion, if you are traveling on a budget, Kenya is the best destination for you in terms of lower costs.
Daily safari cost; Tanzania safari vs Kenya safari
The first that is always asked by tourists is the cost of the safari in each of the countries and one of the factors that affect the cost is the park entrance fees for the different National Parks that are found in both Kenya and Tanzania. Tanzania has many National Parks and jaw-dropping safari destinations that you shouldn't miss out on and on the other hand, Kenya is smaller and more equipped in terms of accommodation and transportation means. Below is an overall estimation of what you should expect to spend on a daily in both Kenya and Tanzania.
Safari type                               Tanzania                                Kenya
Private camping
(2 people)                                 $380                                      $340
Private lodges
(2 people)                                 $650                                       $500
Mobile camps
(2 people)                            $600                                            $500
Group accommodation     $300                                           $250
Group camping                   $450                                            $350
Tanzania vs Kenya Food
Food is an important aspect when it comes to a Safari in both countries and although they have similar foods prepared, there are a few slight differences for instance spices are an important aspect when preparing food in Tanzania (and this applies to most of the dishes especially those prepared in Zanzibar). Zanzibar was nicknamed spice island because many spices are grown on the island and there are used when preparing dishes so if you are not a fan of the species, make sure that you inform your guide in advance. The staple food in both Tanzania and Kenya is Ugali which is served with different dishes like Vegetables, meat (Nyama China), and fish among others. Coconut rice and milk are also prepared in both countries and the most significant difference between the food served in Tanzania and Kenya is the influence of Indian cuisines served in Tanzania. Both countries also serve street food which is known to be cheaper than food served in restaurants and the good thing is that the food served is always fresh, especially the greens ( Sukuma).
Kenyan national parks vs Tanzania national parks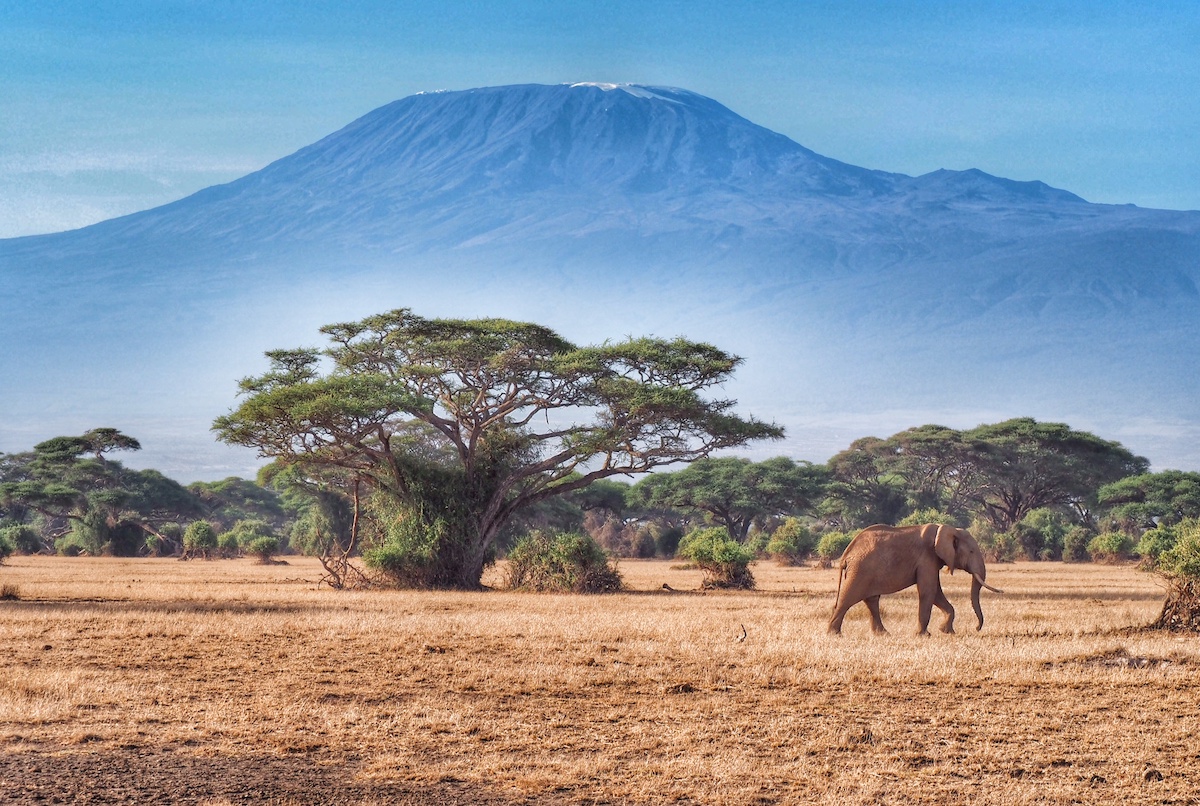 The quality of the National Parks found in both Kenya and Tanzania is almost the same because they have the big five and other wildlife that can be seen in the different national parks. We cannot talk about Kenya and Tanzania and not mention Masai Mara and Serengeti in this comparison. Serengeti and Masai Mara host the wildebeest migration and some of the things that distinguish Serengeti from Masai Mara include Serengeti is bigger in size as compared to Masai Mara and Masai Mara is cheaper than Serengeti. Serengeti is also a good place to go if you are not in a rush because of its size. There are also other National Parks that you can check out in both countries and these have unique wildlife that is best seen during the dry/peak season (June to October).
Tanzania has a lot of National parks that are spread out and offer the best adventures if you have time and Kenya has good safari destinations and is considered to be the best destination for tourists in a hurry. In conclusion, we vote for Tanzania as the best safari destination if you are planning on visiting the different National Parks. A summary of the national parks in both countries includes:
Kenya                                                                      Tanzania
Masai Mara National Reserve                            Serengeti National Park
Samburu                                                                 Ngorongoro conservation Area
Amboseli National Park                                       Tarangire National Park
Nairobi National Park                                           Lake Manyara National Park
Aberdare                                                                 Nyerere National Park
Tsavo East and West                                            Ruaha National Park
Meru National Park                                              Katavi.
The most popular routes in Kenya include Masai Mara, Nairobi, and Amboseli National Park. The popular routes in Tanzania include Ngorongoro crater, Arusha, Serengeti, Tarangire, and Lake Manyara National Park.
Tourist attractions, Tanzania VS Kenya
Both destinations are known to have some of the best Safari destinations on the African continent and below is a list of some of the best safari destinations in both Kenya and Tanzania.
Tanzania:
Tanzania has 7 UNESCO Heritage sites and these are Nyerere National Park (Selous), Ngorongoro Crater, Stone Town, Songo Mnara, Kilwa Kisiwani, Mount Kilimanjaro National Park, and Serengeti National Park. Other destinations in the country include Lake Manyara National Park, Zanzibar, Mahale National Park, Gombe National Park, Mountain Kilimanjaro, and Lake Victoria among others.
Kenya:
Kenya also has 7 UNESCO Heritage sites including other Safari destinations like Thimlich Ohinga Cultural Landscape, Fort Jesus, Lake Turkana National Park, Lamu Town, Mountain Kenya, Aberdares National Park, Mombasa, Amboseli National Park, Dani beach, Hells Gate National park, and Masai Mara National Reserve among others.
In conclusion, Kenya and Tanzania are best combined because each has a lot to offer and both are worth visiting. But in instances where you have to choose one, it is better to consider the cost of each safari especially if you are on a budget. The lure that is found in Tanzania destinations is what is going to keep you on the edge from enjoying the wildebeest migration in Serengeti, to visiting Ngorongoro crater which is filled with wildlife and other top activities. And if you are looking at the economic bit of life, Kenya is your destination.
Best time to go Tanzania vs Kenya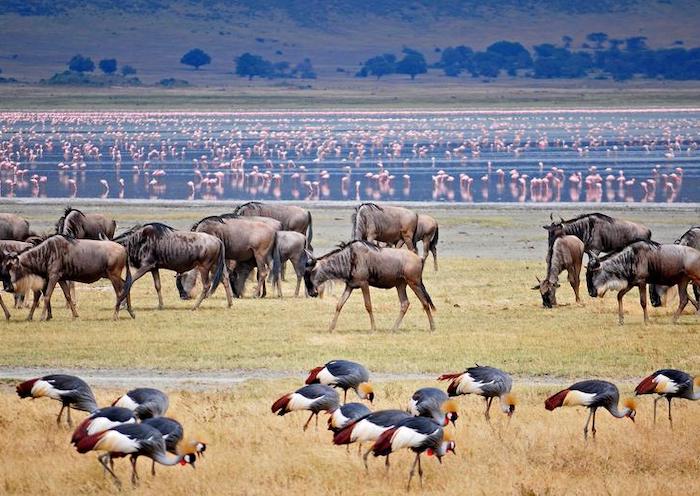 The best time to go to both destinations depends on the activities that you prefer to engage in while on your safari. Both countries have two seasons that is the peak/dry season and the green/wet season both of which are high determinants of when one should go. The wet season has two phases that is the short rains from November to December and the long rains from April to May. The dry season is from June to October and this is a highly-priced time to travel to both countries as compared to the green season when some lodges are closed down due to prolonged rains whereas others reduce their cost. If you are planning on visiting either Kenya or Tanzania for your safari during the peak season, we suggest that you book in advance due to the limited accommodation in both Serengeti and Maasai Mara during the wildebeest migration.
Types of travelers, Kenya vs Tanzania
Both destinations are perfect for couples and honeymooners as they offer the best honeymoon suites in the different safari destinations and not forgetting the various activities that couples can engage in while on their honeymoon. Tanzania has the best luxurious honeymoon suites if you do not mind spending and if you prefer privacy, Kenya is the best with the highest number of conservations between the two.
Kenya is considered to be the best option for tourists traveling with young children and this is because of the various lodges that are found in the different parts of the country.  All in all, destinations are good for all types of travelers but if you still have budget issues, it is better if you first consider Kenya since it has cheaper options between the two.
Travelers also have various activities that they can engage in and these include hot air balloon rides, horse riding, game drives, birding, guided nature walks, boat rides, night game drives, cultural safaris, camping, and chimpanzee trekking and relaxing along the beaches among others.
After looking at all the comparisons between Kenya and Tanzania safaris, the best advice we can give is to chat with someone who has been to both destinations to help you make a perfect choice. Get in touch with us to help you make the best itinerary for both destinations and your preference with your budget being put into consideration.