Back in the 18th and the 19th century, Bagamoyo was a beautiful town with striking coral building constructed with a touch of the Swahili architectural fashion, and served as a major market for slave trade. Today, this town stands with several historical ruins and is the perfect place on your Safari in Tanzania to learn about the intriguing history of Tanzania's early coastal people.
Slaves were gathered from Africa's interior and brought to Bagamoyo port by the local African people, Portuguese and the Arab traders who then shipped them off to the Zanzibar Islands. During the 1700s, there was a very high demand for slaves in Zanzibar to provide labor to work on the plantations on the islands.
Bagamoyo is a local Swahili words that mean 'bury my heart'. This town was among the most important ports for trading on the eastern coast of the African continent. It was a stopover point for caravan that were moving from inland of Tanganyika to Zanzibar. These Caravans had slaves and ivory which were to be traded. However, today building of dhows is one of the major activity being done by the local people.
During the mid-seventeenth century, the Omani Sultans moved to Queen Macena Mwena to fight against the Portuguese in Pemba and Zanzibar. Eventually they managed to control the entire east coast all the way to Mozambique. By 1840, Sultan Seyyid Said bin had established his court in the Zanzibar and the overall population there had grown to large numbers due to the large number of migrants that come in Arabia as well as India. The ruling class of the Omani people established very large plantations of cloves and dates in Pemba as well as Zanzibar and by the Second World War, they were producing four-fifths of the entire production in the world.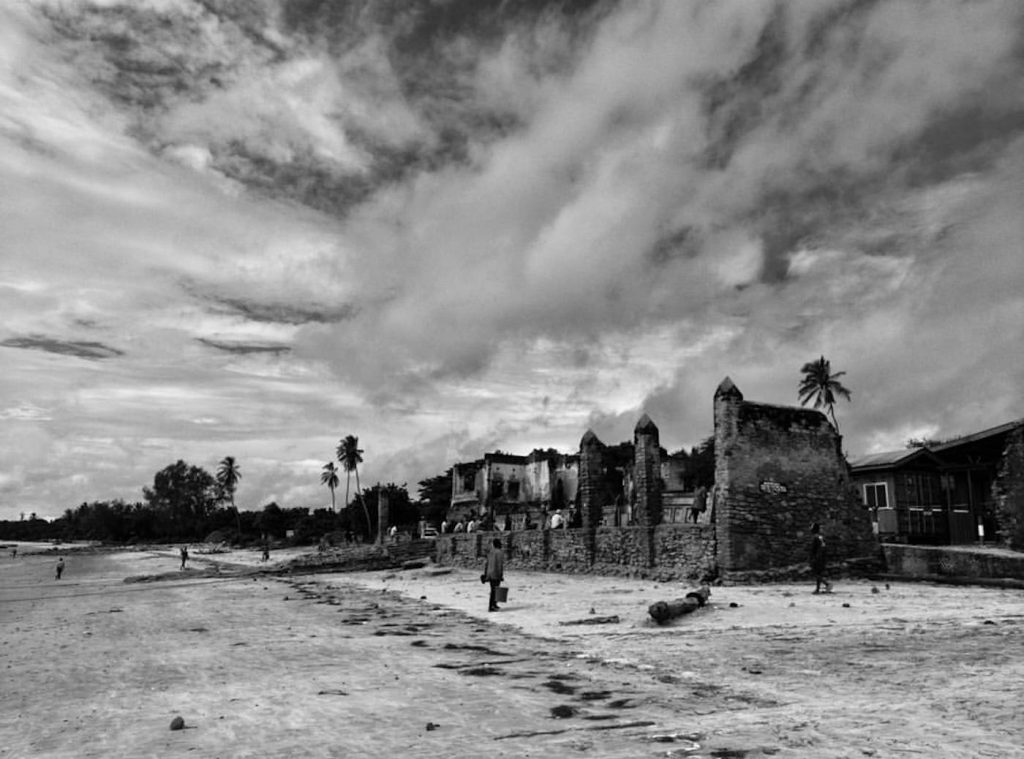 Bagamoyo town has narrow streets which are lined striking houses which were constructed by the rich Indian and Arab merchants back in the 19th Century just as it is in all other coastal towns such as Mombasa, Lamu and Pale. The houses are surrounded with large plain walls having huge lavishly curved wooden front doors.
The German people who also later lived here left an imprint of their architectural style in this town, a thing that makes the heritage of Bagamoyo a union of cultures. The Swahili building which were erected using sand mortar and coral stone were strong permanent structures, however due to the damp climate and the rains during the rainy months, they have been damaged with time. A number of properties were abandoned by their owners while for others, their roofing material was sold off by their owners. However, today there should be public awareness campaigns to encourage the locals to conserve these historic buildings. And as well establish a good plan to preserve then for tourists purposes for the generations to come.
There are several ethnic cultural groups living within Bagamoyo among which are Wazaramo, Wazigua and Wakwere. Today people of all these different cultures together with those of Arab origin peacefully coexist here making it a very great place to having a Tanzania Cultural safari.
Activities in Bagamoyo | What to Do
There are several activities to engage in during your Tanzania Safari to Bagamoyo. These include:
Tour the town: there are guided tours across this town that take two to three hours during which you will be able to see the colored striking buildings, the winding narrow streets, the ancient buildings, the huge beautifully curved doors, the German administrative block, ancient mosques, fish market, the old post office, the Caravan Serai Museum as well as the place where dhows are built.
Visit the Kaole Ruins: One of the oldest villages where the early Arab immigrants settled when they came to east Africa is Kaole Village. The ruins in this village are said to date back as far as the thirteenth century. It's here that Sultan Oman settled and built a military headquarter as well as an administrative block. The ruins currently seen there tell a lot about the ancient trade that thrived there. There is a mangrove forest where you can also have nature walks.
Visit Bagamoyo College of Arts: this internationally renowned college of Arts teaches Tanzania's traditional painting, sculpturing, drumming, dancing and drama. Every month, it organizes amazing

Kaole Ruins Bagamoyo

cultural events that are freely open to the general public.
Visit the Catholic Church and the Museum: The first Catholic Church in East Africa was built here, so you will get an opportunity to visit the old tower at that church, the cemeteries for Catholics, Germans and Indians, the house belonging to the old fathers, one of the oldest Baobab trees and the cross built at the beach. The museum holds great information about the early missionaries, the local people in the area, slave trade as well as several artifacts.
Enjoy a boat cruise on River Ruvu: during this two to three hours cruise, you will have a chance to get up-close views of the different wildlife that live in and on the shores of the river among which are giant hippos, large schools of hippos as well as several species of birds. You will also see some of the local fishermen fishing.
Explore the Mwambakuni coral reefs: you will visit these beautiful corals and get a chance to also interact with the local people who will share with you very interesting stories about their beliefs in these corals.
Fishing with the Locals: you will get an opportunity to join a group of well experienced fishermen and set out to fish in their traditional boats. Your catch will later be prepared either for dinner or lunch.
Visit the Crocodile Village: once at the crocodile farm you will get a chance to learn in details about these giant predators, how they feed, their hunting and social behaviors as well as their growth pattern.
Visit Mapopo Island: there are morning and evening boat trips to Mapopo Island, and there you will have an opportunity to see the thousands of bats living there as well as learn about their significance to the ecosystem.
Cook the local Swahili Food: you will get a chance to join some local women from Kaole village and take part in cooking of various traditional Swahili foods. It's a very exciting experience.
Bagamoyo Accommodation | Where to stay
There are a number of hotels and resorts as well as camping facilities in and around Bagamoyo town that favor for all visitor irrespective of their budgets.
 How to get to Bagamoyo | Getting there
The town of Bagamoyo is situated seventy five (75) kilometers north of the city of Dar-es-salaam, which is approximately one and a half hours drive.  There are daily commuter buses serving between Mwenge bus station in Dar es Salaam and Bagamoyo town.
Safari Supremacy not only organizes very nice Sea Adventure Safaris and exciting Tanzania Cultural Safaris in Bagamoyo, and the Southern Tanzania Safari Circuit, but also to the rest of Tanzania. So contact us today to speak with one of our experts to organize and book your Tanzania Safari Holiday.