Pemba Island is part of the Zanzibar archipelago and it's the northernmost island, hiller and more rural compared to Zanzibar. This Tanzania Beach Holiday destination is located 80 kilometers northeast of Zanzibar and approximately 30 minutes flight from the airport in stone town. The island is less developed and smaller than Zanzibar (Unguja Island). Its undeveloped roads with numerous pot-holes take you to the villages where you will see women wearing bright Kangas, you will bypass oxen pulling carts filled with fruits and the atmosphere in the villages is generally characterized by n aroma of spices.
This island is extremely fertile no wonder it's very green. When compared to Unguja, Zanzibar, Pemba has a very high production of cloves and its economy to date still highly depends on agriculture than tourism.
Despite the fact that this Island is surrounded by beautiful coral reefs, its shores are crowded with thick mangrove forests which makes access to the beaches nearly impossible. The beaches of Pemba cannot be in anyway compared to those in Unguja, Zanzibar, a thing that has made this island less popular except for its few luxury hotels. The majority of tourists that visit this island come for diving and snorkeling. Anyone also looking for a lesss crowded beach in the East African coast, then Pemba is perfect for that kind of visitor.
The People of Pemba Island
The people living in Pemba Island are mainly Muslim. Their culture is more traditional when compared to Zanzibar. It receives fewer tourists annual thus seeing less of the rest of the world.
The Pemba Island today is one of Tanzania's most highly populated areas, and majority of its people live in square houses that are designed in an averagely traditional way. These square houses have mud walls constructed around a wooden frame while their roofs are either covered with corrugated iron or grass thatch. The main town of Pemba which also doubles as the administrative capital is called Chake Chake, and it holds the airport of this island.
Should you or should  you not visit Pemba Island?
Well our opinion about the goodness of Pemba as a nice Tanzania Beach Holiday destination remains hanging. We won't deny that it offers unquestionably excellent diving and snorkeling experiences and has a number of luxury lodges; however, what good is in staying in a super expensive lodge on the sea side yet you don't have any beautiful beaches with fine sand at your doorstep? Nevertheless, those interested in a nice underwater adventure, this is the right place to be. So at the end of the day, it all comes down to your preference as a tourist and what you want to do. You can combine Pemba Island with any of our safari tours in Southern Tanzania; and a package like our 8 days safari in Southern Tanzania.
Pemba Island Activities | What to do
This island offers one of the best snorkeling and diving experiences among the places found off Tanzania's coast. The whole island is surrounded by beautiful coral reefs that offer tourists a very rich marine life to explore under the sea, as well as world-class diving experiences.
Between Tanzania's mainland and the Island is the Pemba Channel which is over 2,000 meters deep. This area offers great opportunities for seeing the huge sea fish; and among the species you will find here are: whales, barracuda, shark and tuna. This area is offers a playground for all experienced divers, as visibility is excellent, and also you will find a number of good high points. Because the water currents here are extremely strong, we do not recommend armature or first time divers to dive here.
There are also popular sunset cruises conducted in dhows a great option for those who would not want to spend all their time under water.
Pemba Island Accommodation | Where to Stay
Constance Aiyana Hotel Pemba Island
This is the most recent addition to the accommodation facilities in Pemba Island. It is rated as a luxury facility and part of the expensive Constance brand chain. The facility is new and extremely glimmering, offering all forms of luxuries you would expect in a world class hotel. The food here is very nice and the beach too is good.
Fundu Lagoon Lodge Pemba Island
This is another accommodation option on the Pemba Island. This fairly costly facility has a number of tented rooms strategically located in the hillside along the seaside. Unfortunately it does not have a nice beach, however there is a boat to transfer guests to the nearby Misali Island which has a nice beach and offers good snorkeling experiences.
The Manta Resort – Pemba Island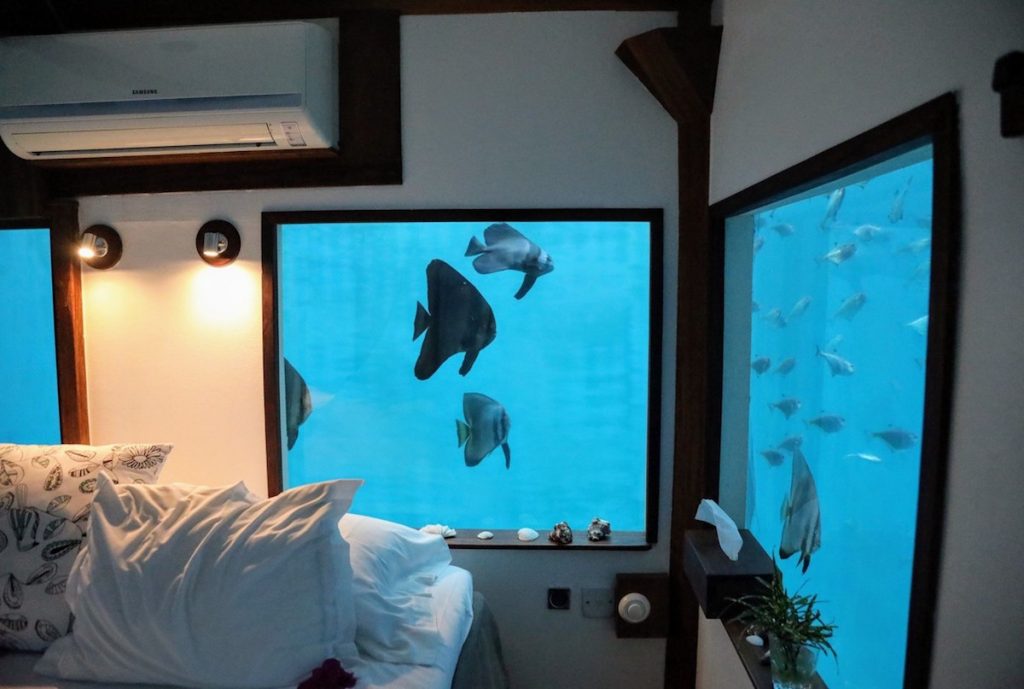 The Manta resort is a good value fairly basic facility that offers serenity and privacy. It's found on the northern side of the island offering it good access to the diving sites. It has the best beach on this island although the lodge is found in a very remote area.
The Manta Underwater Room
The underwater room situated immediately offshore and offers people on a Tanzania Beach Holiday spend one night under the water with the ocean creatures. It is part of the Manta Resort. This is a popular place for those on honeymoon especially those that are resistant to sea sickness and don't mind spending the night in a fairly smaller space.
How to Get to Pemba Island
There are two daily flights from Zanzibar to Pemba which take about 30 minutes departing at 8:00am and 3:00pm. If connecting from Dar es Salaam, its approximately one hour's flight.
Best Time to Visit Pemba Island | When to Go
This island should best be visited in the dry season that normally begins in July and ends in October. Because of this, Pemba can be added on your list of tourist destinations you are going to visit during your Safari in Tanzania. In November, the island receives a few rain showers although it can still be visited up to March.
In April and May, however, the island receives very heavy rains and so should be avoided at that time of the year.
Safari Supremacy not only organizes memorable Tanzania beach Holidays to Pemba Island, Zanzibar and along the Southern Tanzania Safari Circuit, but also to the rest of Tanzania. So contact us today and speak with one of our tour experts to organize and book your Tanzania Safari Holiday.