The archipelago of Zanzibar comprises of three main large islands: Pemba, Tumbatu and Unguja, and the best place to enjoy Tanzania Beach Zanzibar Holidays. These islands are the most famous and one of the great historic islands within the Indian Ocean, with a remarkably good environment, and very beautiful peaceful beaches. There are a number of different accommodation facilities favorable for all budgets with lots of things to discover and see here.
These islands believed to be the origin of the Swahili culture has several Sultan palaces as well as popular plantations of spices for which it is popular for.
The Zanzibar offers a number of beautiful beaches plus several options for spots where you can relax and see the white dhows sail on the blue waters of the massive Indian Ocean. Irrespective of whether you are visiting the Zanzibar Islands for a holiday, honeymoon or a post-safari relaxation – these islands will definitely reward you with the several exciting activities to engage in, the pleasurable privacy as well as very good accommodation.
Stone Town Zanzibar
This is the main tourist center on the islands and it's the arrival and departure hub for visitors to the islands. This island's capital which not only is a historic – cultural center but also a commercial hub was previously the seat of the Zanzibar Sultans (kings). A tour here will give you an opportunity to see the collapsing palaces, mosques and bath places of the Sultans which back in the wealth times of gold trade were very vibrant and beautifully constructed.
Currently, this town has a very different commercial environment that is mainly tuned to serve the tourists. The winding streets have traders literally dealing in everything ranging from art works, jewels, beautiful woodwork and tie- and dye pieces of clothes.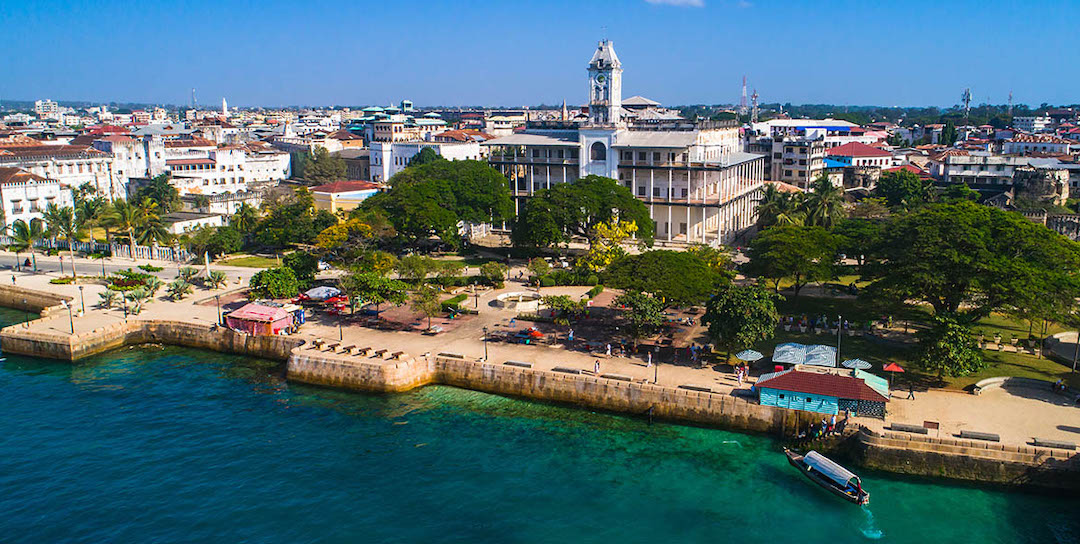 From the rooftops of the town, you will hear muezzins' calling people for prayers during the peak hours, while interrupting sounds of crying babies, crawling chickens and goats will be heard in the very busy streets. To best enjoy Zanzibar Holiday in stone town, we recommend that you spend a night or two so that you get ample time to emerge into the amazing island life here as you eat fresh, enjoy the beautiful sights, taste the local cuisines including a variety of spiced foods and mingle with the fascinating Swahili coastal people.  Stone town has a number of nice different accommodations that you can stay in during you visit so this should be no worry at all.
Location Zanzibar | Where is Zanzibar Located
Having learnt about all the beautiful and exciting things you can do in Zanzibar, it no wonder that many people visit here to enjoy a Tour in Zanzibar, however, the big question remains: where are Zanzibar located? Well, Zanzibar is located thirty five (35) kilometers off Tanzania's Eastern coast. It can easily be connected to from other major tourist areas like the Nyerere National Park (formerly Selous Game Reserve) in just a few minutes flight.
What to do on the Zanzibar Islands?
There is quite a number of exciting activities you can do while on your Zanzibar Holidays, and these include:
Tour the historical Stone Town: this the best place to learn about the great history of the Zanzibar Islands and its early inhabitants, the town which has several historical stone houses adorned with beautiful color has several winding paved streets that form a maze connecting through the different buildings. There are several places of interest across this town including the Beit el-Ajaib (which means 'house of wonders'), a former palace to the Zanzibar Sultan. The town is rich with unique culture and a very good place to explore and even get a chance to interact with the island people. During the guided tours here, you will get an opportunity to also enjoy their local unique cuisine that some of their spiced foods.
Snorkeling: there are tremendous reefs off the eastern and northern coast of the Zanzibar Islands with a very spectacular marine life. The Pemba Islands to be particular are best for this activity
Diving: Various hotels organize exciting diving trips an adventure not for the faint hearted. The Pemba Island is the best place for diving. Although the Mafia Island is another place for diving, this place specifically in the months from October to March is crowded with numerous whale-sharks.
Forest Tours in Jozani Chwaka Bay National Park: this amazing National park is located on the Zanzibar Islands, during these forest tours you will be able to trek the endangered red-colobus monkeys in addition to several other primates including the bush babies.
Explore the Spice Islands: the Zanzibar Islands are also known the species island due to the large plantations of species they have. During this tour you will have an in-depth and comprehensive knowledge of the origin of the different species here.
Explore the Prison Island: unlike what the name says, this island was not a confinement for prisoners but rather an isolated place where people who suffered from yellow fever were put. This place was established during the yellow fever epidemic. The Island which is just a thirty minutes ride from Stone-Town is currently habitat to the giant Aldabra-Tortoises which are the main attraction there.
Enjoying the beautiful Beaches / Honeymoon: Zanzibar has very beautiful beaches, so you can choose to visit these stunning islands for a Zanzibar Beach Holiday simply to relax on the beaches, enjoy the coastal views as well as the cool breezes. It's the perfect getaway destination for people interested in escaping on a Zanzibar Honeymoon Holiday from the crowds and busy life within the urban cities.
How to get to the Zanzibar Islands | Getting there
Fortunately, for those of you planning to enjoy Zanzibar Holidays, there are short flights connecting into Zanzibar international airport from the main cities of Dar es Salaam and Nairobi. From there you can have private transport transfer you by road to your hotel or alternatively take a taxi.
There are also flights from the Zanzibar International Airport to the Mafia Island and Pemba Island, plus boat transfers to Chumbe and Mnemba. There are also motor bikes available for hire as an easier way to explore Stone town.
Best time to visit | When to visit
The best time to take Zanzibar Holidays is during the dry season from June to October when the area is cool and dry. Also from December to February, the Islands can be visited.
Scuba diving can best be done in July and August as well as in February and March. If diving off the northern coast of the islands, this can best be done from June to October, then when diving off the southern coast we advise you do so between November and March.
We as Safari Desire we advise against Taking a Tanzania Zanzibar Holiday during the rainy seasons which are from mid-march to end of May as well as in the month of November as there is very minimal tourist activity.
Zanzibar Hotels | Where to stay on Zanzibar
There are a number of different types of accommodation facilities found on the Zanzibar islands to cater for all types of holidaymakers (tourists) irrespective of their budgets. Below we have listed some of our favorite holiday accommodations that we recommend to our clients.
Luxury Zanzibar Hotels
Xanadu

Zanzibar Beach

Kilindi
Zawadi
Baraza
White Sands
Mid-range Zanzibar Hotels:
Palms
Zuri
Matemwe Retreats
Budget Zanzibar Hotels
Pongwe Beach Hotel
Sunshine hotel
Breezes
Safari Desire not only organizes very exciting and rewarding Zanzibar Holidays and Tanzania Honeymoon Holidays in the Zanzibar and Southern Tanzania Safari Circuit, but also to the rest of Tanzania. So contact us today to speak with one of our experts to organize and book your Tanzania Holiday.