Our 3 Days Fly in safari in Ruaha National Parks is one of the best and most rewarding tour that you can take if you are interested in the most authentic wildlife safaris. It doesn't get wilder than being on a wildlife safari in the middle of Ruaha National Park.
Ruaha has one of the best well-kept wild landscapes in Africa, which is comprised of beautiful rocky escarpments and green hills scattered with baobab that serve as a natural habitat to a great diversity of wildlife which include (10%) of the world's lion population, the third biggest population of the Wild dogs, and one of the top four largest populations of Cheetahs in East Africa. Looking for an authentic Tanzania safari? Ruaha is your best bet!
3 days Fly in safari to Ruaha National Park brief itinerary
Your fly in safari adventure to the Ruaha National Park from Dar es Salaam or Zanzibar will be as per the below outlined itinerary. This program can be sent to you by our safari experts in its detailed form. Free customization is possible.
Day 1: Take a morning flight from Dar es Salaam / Zanzibar to Ruaha National Park. Afternoon safari. Overnight at a lodge or camp.
Day 2: Spend the day exploring Ruaha National Park by 4×4 safari jeep. Walking safari included. Overnight at a lodge or tented camp.
Day 3: Morning Game Drive, transfer to the airstrip for your flight back to Dar es Salaam or to Zanzibar Island.
3 Days Tanzania Safari to Ruaha National Park; Getting there.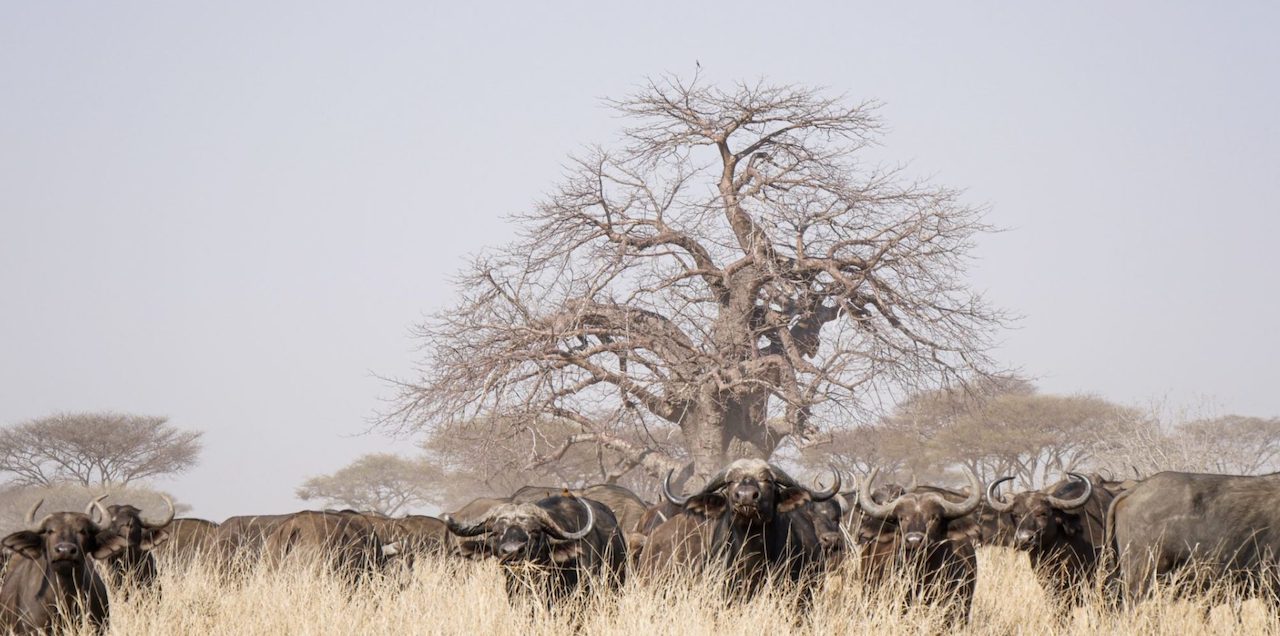 Ruaha National Park is located in the Southern Safari Circuit of Tanzania but it is further towards Central Tanzania, and driving from Dar es Salaam to the park can be a herculean task. From Dar es Salaam or Zanzibar, the park is best reached by flight. There are a few aviation companies that fly into and out of Ruaha National Park so booking the 3 days Ruaha safari early is highly recommended. Getting flight availability on last minute, especially during the peak safari season, can be very tricky.
It is worth noting that the same safari package in Ruaha National Park can be combined with safari tours in the Northern Circuit, thanks to the new flight routes that have been introduced by a few companies. There are flights now that link Ruaha National Park with Northern Tanzania, through Arusha Domestic Airport and Seronera Airstrip, as well as other airstrips in the Serengeti.
Activities on your 3 days Ruaha Safari from Dar es Salaam or from Zanzibar
You will do at least 3 safari game drives on this safari during which you will explore the off-the-beaten tracks of this amazing park in nice four wheel drive (4X4) safari vehicles.
You expect to spot a great diversity of wild animals such as: giraffes, grant's gazelles, defassa waterbuck, the less and greater kudus, zebras, impalas and the sable antelope, in addition to a number of predators. Apart from the traditional safari game drives on a safari jeep, Ruaha National Park also allows for walking safaris as well as night game drives.
One walking safari will be included in the package that you book, but for the night game drives, you can book on arrival at the camp. If you are sure that you will be interested in doing the night game drive, please inform our Southern Tanzania safari experts when making your booking, so that we can arrange everything up front. The earlier you book the better for you.
3 Days Ruaha fly-in safari; Where to stay?
This  3 days Ruaha National Park Safari can be offered by staying in the midrange or standard luxury or deluxe lodges or tented caps depending on your preference and your budget. The published package includes accommodation in an upper midrange lodging which is a nice tented lodge located inside the park.
The same safari package can also be done by staying in midrange accommodations that are mostly located  outside the parks's gates but still within the buffer zones which are wildlife areas with regular visits by wild animals at the camps.
You may also stay at more luxurious lodge sand camps incase you wish to have an upgrade and stay in some of the most luxurious accommodations in Ruaha. Please get in touch with our experts for more advise and customization of your next 3 days safari adventure in Ruaha National Park.
Additional information
| | |
| --- | --- |
| Duration | 3 Days |
| Destination | Southern Tanzania |
| Location | Ruaha National Park |
| Physicality | Easy (Fly-in / Fly-out) |
3 Days Safari itinerary to Ruaha National Park
Fly from Dar es Salaam or Zanzibar to Ruaha National Park
Today morning you will catch a domestic flight either from Dar es Salaam or Zanzibar Island to Ruaha National Park. There are two airstrips in Ruaha, Jongomero and Msembe airstrips and the tented camp or lodge that you are staying in will determine where you will be flying into.
On arrival in Ruaha, you will be welcomed your safari guide from the camp or lodge who will double as your guide and driver on this safari. You will be taken to your camp for hot lunch, with safari game drives on the way to the camp. Upn arrival at the camp your cmap manager will spend a few minutes to welcome you to your home of the next two nights and give you a short brief about the safari program before welcoming you for a sumptuous lunch.
In the afternoon, you will set out for your very first sunset game drive within the Ruaha wilderness in an open 4X4 vehicle. The Ruaha National Park is a less popular and hidden safari destination within southern Tanzania with a rich diversity of flora and fauna. You will get a more secluded safari experience compared to that in the more tourist crowded parks in Northern Tanzania. Some of the animals you will see include herds of elephants, giraffes, buffaloes, hippos, wildebeests, various antelopes and maybe some lions.
You will head back to your accommodation in the evening, relax, have dinner later, and spend the night there. Overnight at Ruaha River Lodge. Lunch and dinner included. 
Explore Ruaha National Park
This day you will have two game drives one in the morning game drive with a few hours break to return at your accommodation to freshen up and have a nice hot lunch before setting out for the afternoon game drive. If you like you may also go on an afternoon walking safari guided by an armed ranger. Your Lodge manager will have discussed with you on the arrival at the camp, about the activities in the next 3 days and 2 nights.
There are also a number of optional activities such as night game drives and the exciting and very rewarding hot air balloon safaris which will cost you some extra bucks (not included in this safari cost).
Special about Ruaha National Park is that it has one of the largest buffalo and elephant populations in East Africa, and an outstandingly big number of predators within its boundaries. It's alleged that the second largest population of lions in the world is found in Ruaha. A large number of Cheetahs, the leopards and the endangered African Wild-dogs are also found within this park. So believe me not there is a lot to see within Ruaha a reason why we have dedicated all these days to Game viewing and photography.
Birders, well get ready to be impressed as Ruaha has a record of more than 570 different bird species so you can never fail to identify quite a number of them during your adventure drives. Because the park is seated within the transitional zone where the southern and eastern ecosystems overlap, it supports a remarkably diverse blend of habitats that support very big numbers of bird, animal and plant species.
Because the park is less visited, chances are that you complete your stay here without encountering any other tourists a thing that will give you a totally private safari experience. Overnight is at Ruaha River Lodge. All meals included
Morning Game Drive, Depart to Dar es Salaam
This is the final day of our 3 days safari in Ruaha National Park. You will wake up very early in the morning for a nice breakfast, before bidding farewell to your camp / lodge staff as you check out of your accommodation.  You will head out for one last game drive in the park as you are transfered to the airstrip where you will catch a flight heading  to Dar es Salaam or Zanzibar Island depending on your onwards travel plans. Please let us know your plans and we will customize your three days safari adventure in Ruaha according to your plans.
Meal Plan: Breakfasts & packed lunch
---
End of the 3 days safari Ruaha National Park from Dar es Salaam or Zanzibar Island.
3 Days Fly-in Ruaha safari from Dar es Salaam or Zanzibar – Prices
| | |
| --- | --- |
| 2 Persons travelling together (1 Double / Twin Room | USD 1897 Per Person Sharing |
| 4 Persons travelling together (2 Double / Twin Room | USD 1861 Per Person Sharing |
| 6 Persons travelling together (6 Double / Twin Room | USD 1824 Per Person Sharing |
---
Tour Price Includes:
3 Days private safari from Dar es Salaam to Ruaha for 2 – 6 Persons
Domestic flight from Dar es Salaam or Zanzibar to Ruaha National Park (tax included)
2 Nights' FB Overnight at a lodge or camp as per itinerary
An extra lunch meal on Day 1 (Lunch at a restaurant enroute to Mikumi)
Full time English speaking Professional Driver/Guide
Park entrance Fees Ruaha National Park
Game drives in Ruaha National Park in private 4×4 safari vehicle (Unlimited Mileage)
Bottled Mineral Water within the Safari Vehicle
Government Taxes, VAT plus TDL
Not Included in the Tour Price
Transfers at Dar es Salaam or Zanzibar if needed. (can be arranged at extra cost)
Accommodation at Dar es Salaam if needed
Visas fees and travel insurance
Any Items and expenses of personal nature
Tips for the safari guide and lodge staff (tip separately)
Extra cold and hot beverages
Laundry services at the lodges / camps