The best 4 days Tanzania safari will take to you to 3 of the most famous parks in Northern Tanzania safari circuit, namely Tarangire, Serengeti and the famous Ngorongoro Crater.
This safari is a 4 days express safari in Tanzania due to the fact that you will be staying 1 night at Serengeti and 2 nights at a lodge in Karatu on the Ngorongoro Highlands, or 1 night at each park, depending on the accommodations that you choose to stay in. Yes, it is a private tour, so it can be customized in any way to suit your preference and tastes.
This 4 days Tanzania adventure starts and ends at Arusha where you may be picked an any hotel or lodge. In case you arrive at Kilimanjaro International Airport early in the morning, we can always pick you up from there and you can start the safari right away, at a small transfer supplement.
4 Days Tanzania Safari at a glance
Your four-day Tanzania safari expedition to the best 3 parks in Northern Tanzania will be scheduled as per the below outlined day to day itinerary;
Day 1 – Pick from Arusha city, transfer to Tarangire National Park for safari. Later transfer to lodge for dinner and overnight.
Day 2 – Transfer from Tarangire or Karatu to Serengeti National Park. Afternoon safari, then dinner and overnight at the lodge.
Day 3 – Morning safari in the Serengeti National Park. Later transfer back to Ngorongoro or Karatu for overnight at a lodge
Day 4 – Early morning descend to the Ngorongoro Crater's floor for safari game drives. Later in the afternoon, transfer back to Arusha where the safari ends.
Where to visit on the 4 Days safari in Tanzania
As mentioned above, this 4 day safari in Tanzania will include a visit to Tarangire National Park, Ngorongoro Crater ( a conservation area) and Serengeti National park; the best park in the world.
Tarangire National Park Insights
This park is most famous for the large herds of elephants and massive baobab trees that dot the park, apart from many animals that roam this incredible wildlife area. The park's main river is the Tarangire River that cuts across the park, and the banks are always teeming with wildlife. Wildlife action with predators preying on animals is a common sighting along the banks of the river.
Tarangire is approximately 2 hours drive from Arusha town and geographically between Arusha and Ngorongoro Crater. The park is an ideal point to begin your short safari in Tanzania.
Ngorongoro Crater
Ngorongoro Crater is part of the larger vast Ngorongoro Conservation Area. The crater floor where safari game drives are done is a small area which acts like a natural zoo. More than 20,000 animals roam the small area, with opportunity to spot many animals at very close range. The Big Five can be spotted here even in a one day's safari game drive. The Big 5 includes lions, elephants, leopards, buffaloes and Rhinos. Ngorongoro is also a great place for birding with more than 500 bird species recorded; both aquatic and non-aquatic birds, resident and migratory.
Serengeti National Park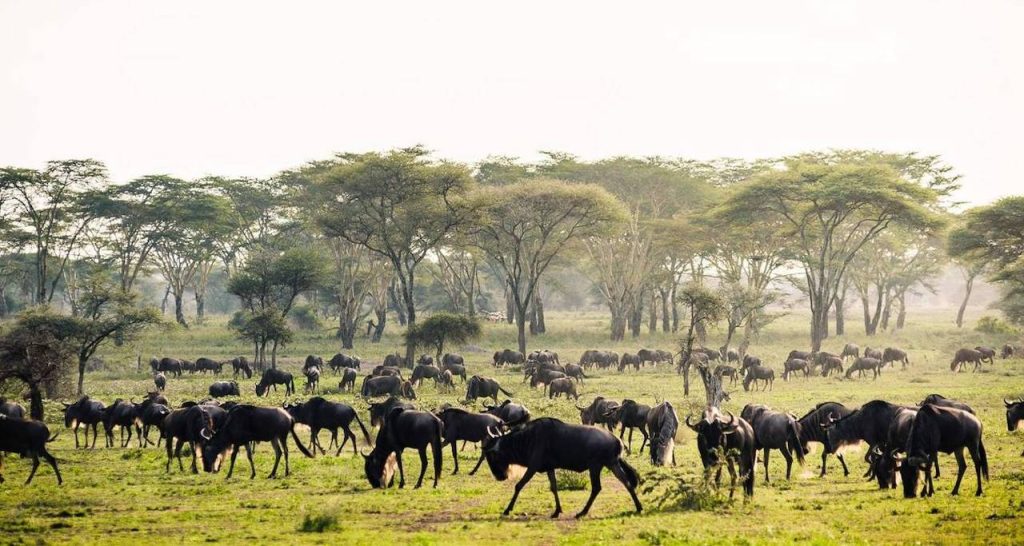 This is the best park in Africa according to travelers and travel experts. The park has been voted time and again as the best national park and indeed wildlife conservation area in Africa and the world over. The wildebeest migration herds spend the most of the time in The Serengeti, from October to July. Serengeti National Park is also a Big five national park.
4-Day safari Tanzania, where to stay
This is a lodge safari. Accommodation during the four-day safari tour will be in nice mid-range lodges and tented camps, but you can have your accommodation upgraded by our Tanzania safari experts. You can stay in midrange (comfort), standard luxury or deluxe lodging depending on your budget.
The 4 days Tanzania safari is a drive in / drive out safari, starting from Arusha and back, but we can customize it for you into a Fly in – drive out safari, or drive in – fly out at a supplement. Please ask our experts if you need free customization of your itinerary.
Additional information
| | |
| --- | --- |
| Duration | 4 Days |
| Destination | Northern Tanzania |
| Location | Tarangire National Park, Serengeti Manyara National Park, Ngorongoro Crater |
| Starting | Finishing Point | Arusha town |
4 Days Tanzania safari Itinerary
Arusha City to Tarangire National Park for safari
The first day of this itinerary, you will be picked up from your hotel or lodge in the city of Arusha or directly from Arusha Domestic Airport in case you are flying in from Zanzibar. You may request your guide to make a brief stop for last minute supplies if you wish, or change money to local currency. You will take a two hour drive through the Arusha – Dodoma Highway to the Tarangire National park where you will stop briefly at the gate for registration.
Tarangire National Park is home to many animals including large herds of elephants, lions, buffaloes, leopards, cheetahs, zebras, giraffes, lots of impalas, grant and Thompson gazelles as well as rare species like the gerenuk and the beisa oryx.
Picnic lunch can be serves in one of the picnic sites within the park or at the picnic site that is located at the park's gate. You will go on a guided wildlife safari in the Tarangire until later in the afternoon around 16.30 Hrs or 17.00 hrs , then transfer to your lodge within the park or a midrange lodge at Karatu in the Ngorongoro Highlands for dinner. Overnight will be at the Marera Valley Lodge in Karatu or similar lodge. Picnic lunch and dinner is included.
Tarangire / Karatu to Serengeti National Park
Second day of this 4 days Tanzania safari adventure, we are heading to the most famous park in Tanzania and Africa; the Serengeti National Park. Pick up from your lodge after an early morning breakfast and your private guide will take you across the Ngorongoro Conservation Area and enter Serengeti through Naabi Hill Gate, where you will stop registration. On your way to Serengeti, you will get a chance to make several stops on the way to view animals as you traverse the Ngorongoro Conservation Area which itself is a wildlife area with many animal species.
Visiting the Olduvai Gorge an important archeological site is an option and so is a visit to a Masai Boma (village) at an extra cost.
Once you enter the Serengeti you will go on your first safari game drive in search of the animals. Serengeti is famous for the wildebeests herds but the park is home to many other animal species including large prides or lions, leopards, cheetahs, giraffes, topis, zebras, gazelles, impalas, warthogs, rhinos, jackals, elands and the list is endless.
Later in the afternoon your guide will take you for check in at your lodge or tented camp within the Serengeti. Overnight at Tukaone Serengeti Camp. All meals included.
Safari in Serengeti National Park – back to Ngorongoro
This 4-days safari in Tanzania is an express tour because it includes only one night at Serengeti. You will wake up for an early morning safari game drive (recommended) if you wish). Your safari guide will try to show you as much wildlife in this sunrise safari, before taking you back to your lodge / camp for breakfast.
You will depart after breakfast with packed lunch and go for one more safari game drive on the way back towards the Naabi Hill Gate where you will exit the Serengeti and head back to Ngorongoro Highlands with game viewing on the way. You will have your picnic lunch at a picnic site at Naabi Hill Gate where you are also allowed to alight from your jeep and even stretch your legs a little bit.
Your guide will drop you off at your lodge within Ngorongoro Conservation Area or at a nice lodge in Karatu near the NCA. Overnight at Marera Valley Lodge or similar midrange lodge.  All meals included.
Safari in Serengeti National Park – transfer back to Arusha
Waking up very early is very recommended on this last day of your safari. The earlier you descend to the Crater floor the better the chances of spotting many animals including the rare ones like black rhinos that live at the Ngorongoro Crater floor. After an early breakfast at your lodge in Ngorongoro or Karat, you will descend to the floor of the 'Africa's Garden of Eden'; the Ngorongoro Crater. Descending the 600-meter-high walls of the Ngorongoro is a spectacle in itself, but when you arrive at the Crater's floor you will be amazed by the abundance of animals that lineup close to the tracks. An estimated 20,000 animals live in this small area. You expect to spot gazelles, elands, topis, zebras, warthogs, topis, wildebeests, jackals, caracals, baboons, as well as the big five with a little bit of luck.
Picnic lunch will be taken at the picnic site at the Hippo pool side or Elerai forest where you will also get a chance to us ethe bathrooms. After lunch and according to your schedule, you will proceed with your afternoon game drives until later when your guide who will take you back to Arusha where your 4 days Tanzania lodge safari ends.  Breakfast and Lunch included. All meals included.
---
Please Note:
Like all our Tanzania safari packages, we can always customize this one for you in any way that will make it a great package for you. We can also plan a beach vacation extension to Zanzibar in case you want to go to Zanzibar after your wildlife safari
4 Days Tanzania Safari from Arusha – Prices
We only offer private tours. The price for the 4 days safari in Tanzania from Arusha will be as per below depending on the number of persons travelling together.
| | | |
| --- | --- | --- |
| 2 adults travelling together | 1,500 | USD |
| 4 adults travelling together | 1,200 | USD |
| 6 adults travelling together | 1,110 | USD |
For groups of more than 6 please ask for a discounted group price. For children of 01 to 11 , and 12 to 15 years old, as well as for Solo travellers, please get in touch with our safari experts for a price quote.
We can customize the program according to your interests and budget.
The Price includes
04 days private Tanzania safari for 2 – 6 persons or more
Transfers and safari game drives in a 4×4 safari land cruiser with photographic roof hatch
Services of a professional English speaking safari guide
Park entry fees and Ngorongoro Crater fees
03 x FB at safari lodges camps as per your itinerary
Bottled water in the safari car during game drives
Value Added Tax by Tanzania Revenue Authority
The Price does not include
Airport transfers in Arusha (if needed)
All items of a personal nature
Tips and gratuities for safari guide & lodge /camp staff
Travel insurance
Laundry services during the safari
Alcoholic and non alcoholic drinks & beverages
This package can be customized with cheaper accommodation or basic camping if you like. The same package can be also offered using luxury lodges or tented camp in case you want an upgrade.
You may also be interested in our 5 days Tanzania lodge safari incase you have one more day to spare for the best wildlife safari in Tanzania. The five days package includes Tarangire, Ngorongoro and 2 nights at Serengeti instead of one night like in the case of this 4 day safari in Tanzania.