This is our 7-day Southern Tanzania safari package that takes you to Mikumi National Park and the largest park in Tanzania; Ruaha National Park which is located towards the Central Tanzania. The tour starts and ends at Dar es Salaam and it is basically a drive in / drive out safari. However, due to the long drive from Ruaha back to Dar es Salaam, we usually recommend flying back in case you have some dollars to spare. The flight is currently at USD 370 and above, depending on the flight company that has availability in this year 2022. Our able Southern Tanzania safari experts usually can work with you and give you free advice and customization in order to meet your needs and preferences.
Pick up for this seven-day safari adventure in Southern Tanzania is any hotel within Dar es Salaam's Central Business District including the Airport, if you are arriving early in the morning and ready to start your safari adventure right away. We can also pick you up from your residence in case you are residing within the city of Dar es Salaam. Far flung beach lines are also Okay but it may cost a small supplement for the transfers.
7-Day Southern Tanzania safari brief itinerary
Your seven days Southern Tanzania safari adventure will be as per the below outlined itinerary. This one week adventure in Southern Tanzania can be customized in anyway in order to suit your needs and budget.
Day 1: Pick up from Dar es Salaam, transfer to Mikumi National Park for safari.
Days 2: Explore Mikumi National Park for the whole day.
Day 3: Transfer to Ruaha National Park, via Iringa town.
Day 4: Spend full day safari in Ruaha National Park.
Day 5: Another full day safari in Ruaha National Park.
Days 6: Explore Ruaha National Park for the third day in a row. Optional activities include walking safaris and night game drives.
Day 7: Long drive back to Dar es Salaam, or Fly back to Dar es Salaam (at extra flight cost).
7 Days Southern Tanzania safari; Places to Visit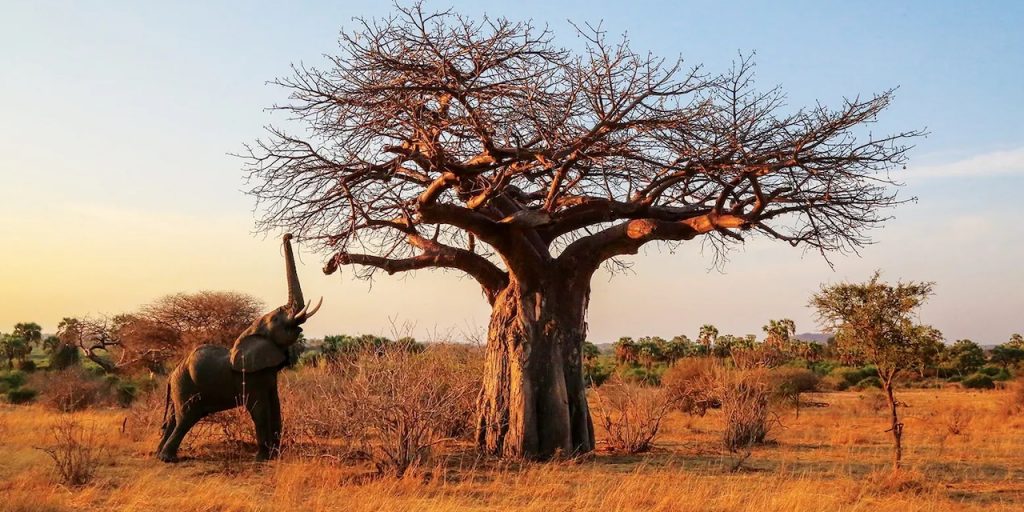 This is a two parks multi-stop tour for 7 days. You will first visit Mikumi National Park in Southern Tanzania, whose plains are filled with large numbers of different wild animals such as elephants and buffaloes, lions, zebras, giraffes and many more. Mikumi is also a good birding area with more than 400 birds species spotted and recorded. Birds that can be commonly spotted in the Mikumi National Park include; the Marabou stork, Red-billed oxpeckers, Black-bellied bustard, Francolin, Cattle egret, Guinea-fowls, Hornbill and Malachite Kingfisher.
Ruaha National Park on the other side is located further towards central Tanzania and the park is the largest in Tanzania by surface area. The park is famous for its large herds of elephants, big and old baobab trees, and prides of big cats, including some incredibly big prides of lions that roam the vast wilderness. Part from traditional safaris in 4×4 jeeps the park also allows Walking safaris, and night game drives both which can be arranged as optional activities while there. It is however recommendable to plan and book well in advance so that the permits can be processes in time.
7 Days Southern Tanzania safari to Mikumi & Ruaha; Places to stay
During the safari in southern Tanzania, you will be staying in mid range lodges and camps according to this published program. You can however stay at more luxurious options in case you want an upgrade for the accommodations. There is a range of budget, midrange, standard luxury lodging as well as top market / high end camps in the parks included in this 7 days safari in Southern Tanzania.
Please request for free advice and customization, or upgrade on the accommodations included in this unforgettable 7 days wildlife safari adventure in Southern Tanzania.
Additional information
| | |
| --- | --- |
| Duration | 7 Days |
| Destination | Southern Tanzania |
| Location | Mikumi National Park, Ruaha National Park |
| Departures | Daily Departure (private tours ony) |
Transfer from Dar es Salaam to Mikumi National Park
Today very early in the morning, you will be met and picked up by one of our representatives from Safari Desire (who will be your driver and guide on this Safari). Your 7 days safari in Southern Tanzania will begin the drive southwest to
Mikumi National Park
. You will arrive in the afternoon, with lunch taken on your way to Mikumi at a local restaurant, and start your first safari game drives right away after registering at the gate.
The afternoon will be spent doing afternoon game drives in the plains of Mikumi until late afternoon when you will be driven to your lodge for check in. You will take your time to freshen up before having a sumptuous dinner at the lodge/camp's restaurant. Dinner and overnight is at Camp Bastian. Lunch & Dinner included.
Explore Mikumi National Park
On this day you will have a chance to start early after breakfast, with picnic lunch being taken in one of the picnic sites inside the park. Immediately after breakfast you will set out for a game drive in the unspoilt wilderness of Mikumi National Park. You will search the park to see the early risers as well as nocturnal animals returning to their hideouts. This entire day is dedicated to game viewing and you guide who is very knowledgeable about the animals in this park will drive you to areas that will offer you best game views. The pop-up roof on your car will give you undisrupted opportunities for photography covers an area of 3230 square kilometers which makes it one of the largest national parks in Tanzania. As you explore its wilderness, some of the animals you will see include elephants, hartebeests, buffalos, kudus, zebras, elands, wildebeests and impalas.  Hyenas, baboons, lions, wild dogs, giraffes, warthogs and hippos are the other animals you can always look out for.
In addition, more than three hundred (300) different types of birds have been recorded within this national park, a thing that will give you great opportunities to see them. Some of the bird species found within this park include: Boehm's bee-eaters, African fish eagles, lilac-breasted rollers, starlings, yellow-throated longclaws, Bateleur eagles, Dickinson's kestrels and straw-tailed whydahs.
You will explore the varied wildlife habitats which include the seasonal floodplains, the grassland which are scattered with giant baobab trees and thorny trees (these are very similar to those in the Serengeti), Miombo woodlands, swamps, riverine forests and low hills.
Later in the evening you will head back to your accommodation and there you will have your dinner and spend the night. Overnight at Camp Bastian. All meals included.
Transfer and Explore Ruaha National Park
On day 3, you will depart from Mikumi National park and head west on a drive that will cover approximately 320 kilometers. This five hours drive will finally get you to the less remote Ruaha National Park.
Over the following four days, you will explore the amazing landscapes within this national park that serve as varied habitats to the birds and animals found here. Because of its distant location, this park is less visited and normally ignored by mainly tourists although it offers a genuine undisturbed Africa wilderness safari experience.
You can choose to do full day game drives with a picnic lunch in between,  or go for half day game drives with a few hours break to return at your accommodation to freshen up and have a nice hot lunch and some rest, before setting out for the afternoon game drive.
There are also a number of optional activities such as night game drives and the exciting and very rewarding hot air balloon safaris which will cost you an extra bucks (not included in this safari cost).
Ruaha National Park is that it has one of the largest buffalo populations in East Africa, approximately 10,000 elephant and an outstandingly big number of predators within its boundaries. It's alleged that the second largest population of lions in the world is found in Ruaha. A large number of Cheetahs, the leopards and the endangered African Wild-dogs are also found within this park. So believe me not there is a lot to see within Ruaha a reason why we have dedicated all these days to Game viewing and photography.
Birders, well get ready to be impressed as Ruaha has a record of more than 570 different bird species so you can never fail to identify quite a number of them during your adventure drives. Because the park is seated within the transitional zone where the southern and eastern ecosystems overlap, it supports a remarkably diverse blend of habitats that support very big numbers of bird, animal and plant species.
Because the park is less visited, chances are that you complete your stay here without encountering any other tourists a thing that will give you a totally private safari experience. Overnight at Ruaha Hilltop Lodge. All meals included.
Transfer from Ruaha back to Dar es Salaam
This is the final day of our 7 Days Safari. Early in the morning, you will have a hearty breakfast, before your safari guide drives you back to Dar es Salaam where this amazing safari started.
Meal Plan: Breakfast and Lunch.
---
It is a very long but very scenic drive that may take 8 – 9 hours. As an alternative to driving, you can take a flight back from Ruaha to Dar es Salaam or Zanzibar if going for a beach vacation extension. Another option is to take a flight from Iringa to Dar es Salaam (subject to availability of flights. This option will include a reasonably short drive from Ruaha to Iringa town. 
End of your 7 Days Southern Tanzania safari that includes a visit to Mikumi National Park and Ruaha National Park starting from and finishing at Dar es Salaam.
7 Days Southern Tanzania safari to Mikumi & Ruaha – Prices
below prices are for the 7 days Southern Tanzania safari including
| | |
| --- | --- |
| 2 Persons travelling together (1 Double / Twin Room | USD 1677 Per Person Sharing |
| 4 Persons travelling together (2 Double / Twin Room | USD 1424 Per Person Sharing |
| 6 Persons travelling together (6 Double / Twin Room | USD 1139 Per Person Sharing |
---
Tour Price Includes:
7 Days private safari from Dar es Salaam to Mikumi for 2 – 6 Persons
6 Nights' FB Overnight at a lodge or camp as per itinerary
An extra lunch meal on Day 1 (Lunch at a restaurant enroute to Mikumi)
Full time English speaking Professional Driver/Guide
Park entrance Fees Mikumi & Ruaha National Parks
Game drives in the parks in private 4×4 safari vehicle (Unlimited Mileage)
Bottled Mineral Water within the Safari Vehicle
Government Taxes, VAT plus TDL
Not Included in the Tour Price
Visa fees for Tanzania and travel insurance
Transfers at Dar es Salaam if needed
Accommodation on arrival at Dar es Salaam if needed (can be arranged by us)
Any Items and expenses of personal nature
Tips for the safari guide and lodge staff (tip separately)
Extra cold and hot beverages
Domestic return flight from Zanzibar to Dar es Salaam if needed.
Laundry services at the lodges / camps