During Your Safari, Once you step foot into Serengeti National Park, your perspective on the surrounding environment will undergo a significant transformation. This is because you are now inside one of the world's most remarkable and captivating national parks. Actually, Serengeti National Park has been voted the most times in the past decade; as the best national park in the world. Serengeti boasts an array of attractions and provides ample opportunities for engagement. Undoubtedly, the Great Migration and embarking on a safari in Serengeti National Park stand as its foremost allure. Nevertheless, this remarkable park offers something special regardless of the time of your visit. From an abundance of bird species and picturesque rolling plains to enchanting lakes, here are the top 10 things to experience in Serengeti National Park.
Experience the Remarkable Great Migration
The Great Migration serves as the primary draw for travelers from around the globe to the Serengeti, and it's not difficult to comprehend why. This extraordinary spectacle represents the world's most extensive movement of animals, and it is truly a breathtaking sight. Witnessing millions of mammals thundering across the expansive wilderness, pursued by an array of predators, will unquestionably instill a profound appreciation for the sheer magnitude of this event and the delicate equilibrium of nature. It's imperative to stay informed about the precise timing and locations of the Great Wildebeest Migration, as it follows a cyclical pattern. Ensuring your trip aligns perfectly with this phenomenon is crucial for a memorable experience.
Explore the Seronera River Valley
The Seronera River Valley encompasses a substantial portion of the central Serengeti region, offering a glimpse of the Serengeti's unspoiled natural beauty. This lush valley teems with unique flora and fauna exclusive to the region, making it an ideal destination for nature enthusiasts. You could easily dedicate your entire trip to exploring the wonders of the Seronera Valley, where you'll encounter wildebeest, elephants, zebras, gazelles, and more. Furthermore, the valley's abundant prey attracts a diverse range of predators, including lions, hyenas, cheetahs, and leopards. For those seeking accommodations, the area boasts a selection of exceptional permanent lodges open year-round.
Visiting Oldupai Gorge – The cradle of mankind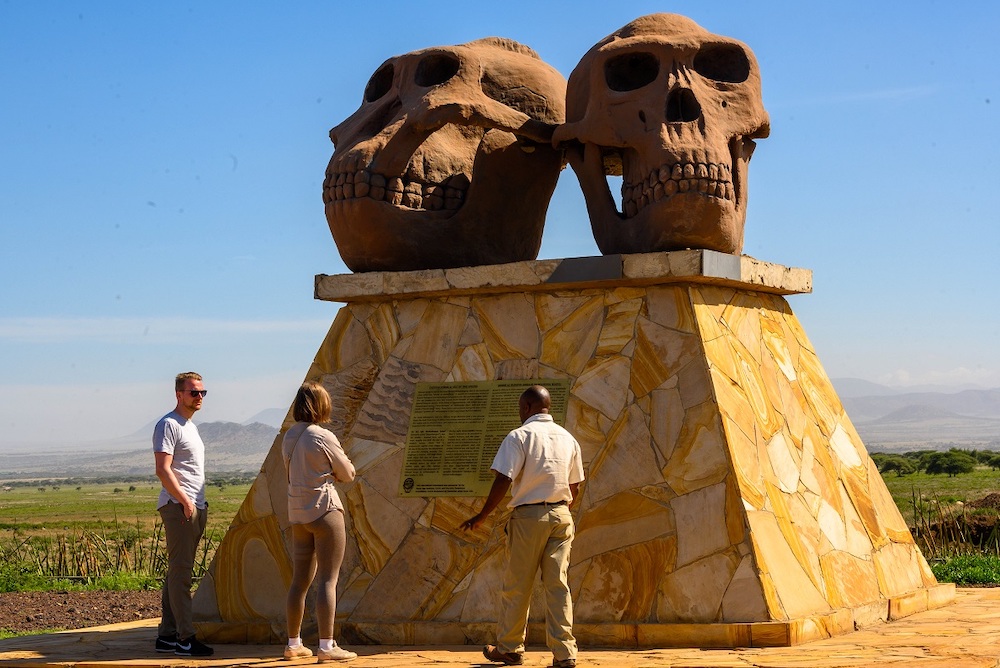 Nestled within the Serengeti National Park and the Ngorongoro Crater, Oldupai, also known as Olduvai Gorge, stretches over 300 miles and is renowned as the site where 2 million-year-old human fossils were discovered. Step back in time and tread the same paths as our ancient ancestors. During your visit, don't miss the opportunity to explore the quaint yet captivating Oldupai Museum, established by Mary Leakey, the pioneering scientist responsible for unearthing these remarkable fossils. A visit to Oldupai Gorge serves as an enlightening interlude for travelers transitioning from the Serengeti to Ngorongoro, offering valuable insights into our ancestors' way of life and their distant past. Oduvai Gorge visit is easily incorporated into a multiday safari that includes both Serengeti and Ngorongoro Crater, just like our 5-day safari in Tanzania.
An Aerial Adventure Over the Serengeti National Park
Embark on an unforgettable adventure with an aerial perspective of Serengeti National Park. Discover the awe-inspiring beauty of this iconic destination by booking a hot air balloon ride, that starts as a wildlife exploration adventure aloft, and ends with basic excursions to more opulent experiences, a full English breakfast that includes champagne popping in the middle of nowhere.
What is the cost for a hot air balloon safari in Serengeti?
The whole Hot Air balloon safari adventure costs are a bit costly, currently (2023) at USD 599 per person, per ride, inclusive of all taxes.
Alternatively, opt for a daring airborne journey by reserving a seat on one of the chartered regional planes departing from any of the seven airstrips within Serengeti. Keep in mind that while the plane offers a different perspective, the hot air balloon provides an unparalleled bird's eye view. Whichever option you choose, prepare to be enchanted by the endless landscapes and unparalleled splendor.
Explore the Marvels of Moru Kopjes
Delve into the realm of adventure with a visit to Moru Kopjes, a captivating rock formation nestled amidst the Serengeti plains. These mound-like rocks, resembling mountains, serve as crucial sources of hydration and shade for the park's wildlife. This area ranks among the top spots for wildlife observation, offering opportunities to spot apex predators like lions, cheetahs, and leopards. Moreover, it is the premier location for encountering the elusive black rhinoceros.
For those eager to delve into the rich local culture, explore ancient African rock paintings created by the Maasai people. A must-visit site is the 'Gong Rock,' revered by the local community for its believed historical significance as an ancient musical instrument.
For those interested in immersing themselves in the local culture, a captivating experience awaits with the ancient African rock paintings created by the Maasai. Don't miss a visit to the 'Gong Rock,' a site revered by the local community for its believed history as an ancient musical instrument.
Discover the 'Maasai Way of Life'
No journey through the Serengeti can truly be considered complete without an excursion to a Maasai village. The Maasai, semi-nomadic people with a rich history in Kenya and Tanzania, offer a glimpse into their way of life within their boma-style communities. The Maasai extend a warm welcome and are eager to share insights into their customs, lifestyle, and traditions. Numerous guided tours facilitate visits to these Maasai villages. For a deeper and less touristy experience, consider arranging a private village tour through a local NGO or your travel agency, providing an insider's perspective on these vibrant communities."
Explore the Grumeti River
Located in the western part of the Serengeti, the Grumeti River promises an exhilarating adventure. It plays a pivotal role in the annual Wildebeest Migration, offering a unique and captivating experience. This region teems with crocodiles, setting the stage for an annual crocodile-wildebeest spectacle that is a must-see for biodiversity enthusiasts. Caution is advised for those with a weak constitution during this period. Moreover, the area's scenic beauty is equally mesmerizing, with the river valley adorned in lush, picturesque landscapes.
Discover Bologonja Springs
Bologonja Springs stands as a hidden gem within the Serengeti, often overlooked by tourists. If you seek an unspoiled encounter with the Serengeti's magnificent flora and fauna without the crowds, this is your ideal destination. These springs attract a diverse array of wildlife, including giraffes, elephants, and antelopes. It's also a paradise for bird watchers. Here, you can observe animals frolicking, engaging in territorial battles, and grazing in their natural habitat, with minimal human interference.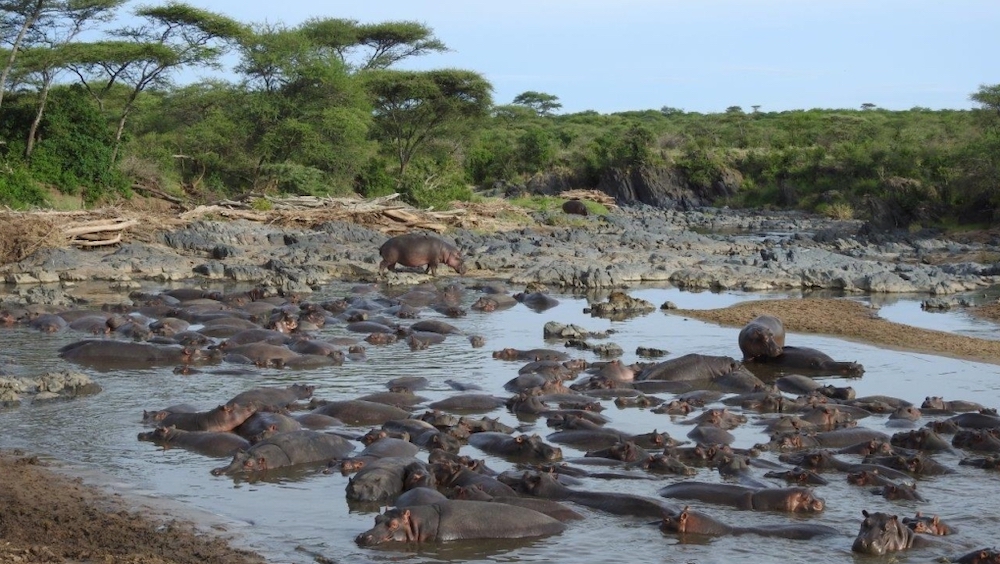 Retina Hippo Pool
Witness Tanzania's Natural Hippo Spectacle Tanzania's reputation for hippos is well-deserved, and for an unparalleled hippo encounter, the Retina Hippo Pool is an absolute must-visit. While hippos can be spotted throughout the Serengeti, the Retina Hippo Pool stands out as a hub where they congregate in the hundreds. Here, they engage in feeding frenzies, bask in the warm waters, and even partake in territorial skirmishes. Adding to the intrigue, the pool is also inhabited by a variety of crocodiles, and if you're fortunate, you may catch sight of elegant herons. An astonishing spectacle awaits, with approximately 200 hippos leisurely occupying the area.
Unwind in an 'out of Africa' Tent
Amidst Nature's Symphony When it comes to accommodations in the Serengeti National Park, you're spoilt for choice, ranging from lavish resorts to rustic tents. Yet, there's unparalleled beauty in spending your nights immersed in the natural world, where the symphony of crickets and the gentle rustling of nocturnal animals lull you to sleep. The absolute silence of the Serengeti is an experience few places worldwide can match. Opt for a tent rental and savor the ambiance of a campsite. Budget-conscious travelers will find affordable options starting at just $50 per night, while luxury tents offer all the amenities you desire.
The Serengeti National Park caters to every preference and budget, ensuring that you'll find something extraordinary to suit your tastes. Immerse yourself in the wonders that Mother Nature has to offer and let the Serengeti steal your heart.